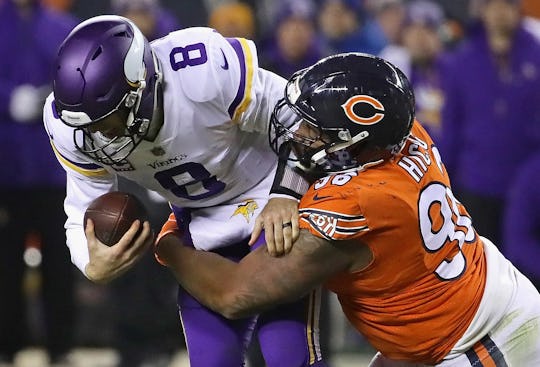 Jonathan Daniel/Getty Images Sport/Getty Images
When & Where To Watch Football This Thanksgiving
People watch football on Thanksgiving, or so I've heard from family members whose request for the remote I've ignored in favor of subjecting everyone to A Charlie Brown Thanksgiving again. If you are one of those people who enjoy pairing your turkey and stuffing with a sporting event (to each their own), then you're going to want to know the answer to one simple question. What time are the football games on Thanksgiving?
There are three games going down on Thanksgiving, which should keep you and your family entertained for the entire day, as long as no one interrupts you to put on a children's cartoon. The Chicago Bears vs. the Detroit Lions (not a Game of Thrones thing, evidently) is set to kick off at 12:30 PM. The Washington Redskins vs. the Dallas Cowboys will be at 4:30 PM. Finally, the Atlanta Falcons vs. the New Orleans Saints is happening at 8:20 PM. All of that is Eastern Time, so adjust accordingly based on your locale.
It's not enough to know the time of a game, however. You also need to know where to watch it. Luckily, there are quite a few options to make sure you've got access to your Thanksgiving football games.
The Mormonts vs. the Lannisters — sorry, my mistake, the Bears vs. the Lions will be airing on CBS. However, if streaming is more your speed, then you can also find the game on fuboTV, a service that allows you to watch all kinds of sporting events from different networks, or on CBS Sports Live. According to CBS Sports, this will be something of a rematch, one where both sides have their pros and cons. The site notes that "Chicago doesn't have a whole lot of room for error if it wants to win the division," but even though the Lions haven't been doing so well this year they have been able to rally on Thanksgivings past.
The Redskins vs. the Cowboys airs on FOX, or once again on fuboTV or Fox Sports Go. Per CBS Sports, surprising victories from both teams during the season could make this match especially interesting. I will take their word for it. It seems the Falcons vs. the Saints will also be one to watch, with CBS Sports referring to it as a "blood feud here with two gentile Southern teams who do not care for one another." The Saints have been doing very well lately, which could give them an edge, but this apparent drama between teams might make the Falcons more eager to win. Who can say? Not me, that's for sure. The final Thanksgiving football game airs on NBC, but will also stream on fuboTV and NBC Sports Live.
Now that you know when and where and how to watch football this Thanksgiving, you should be set for the duration of the dinner — and even after. In any gaps between games, you can debate each major moment and shocking play, which might be a safer topic to bring to the table than most.