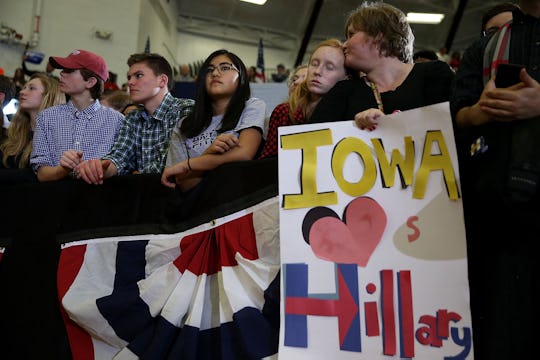 Justin Sullivan/Getty
What Time Are The Iowa Caucuses? It's An Important Day For Voters In The State
Registered Republicans and Democrats prepared to head to their precinct's voting or gathering place Monday night for the Iowa caucuses, kicking off the all-important first voting cycle of the 2016 election (no big deal). The caucuses in Iowa are of particular interest because they mark the first time candidates will be judged by actual voters, as opposed to speculated on by polls and political pundits, and they will potentially help form a picture of where the candidates actually stand. Is Donald Trump really as popular as he seems? Do Democrats prefer form Secretary of State Hillary Clinton or Vermont Sen. Bernie Sanders? Will underdogs like former Florida Gov. Jeb Bush and former Maryland Gov. Mike O'Malley prove to be stronger than previously thought? It'll all go down Monday night. But what time are the Iowa caucuses? The Iowa caucuses begin at 7 p.m. Central Time, and are expected to last around two hours, but can go as long as they need to in order to have all votes accounted for, according to USA Today.
Results from the caucuses will be shared to the public in real-time, using new technology from Microsoft, according to the Daily Mail. The specially-designed apps should allow faster and more accurate reporting of results from individual voting precincts to party headquarters (and then to media outlets), which is a pretty important upgrade in a process where small inaccuracies can have a big effect on results (in 2012, for example, Mitt Romney was mistakenly declared the winner of the Republican caucus instead of Rick Santorum).
So, what can Iowans expect when they arrive at their voting precincts tonight? That depends on which party they belong to. According to The Guardian, Iowa Republicans will cast a secret ballot for their preferred candidate, in a pretty straightforward process. Democrats, on the other hand, who vote by physically arranging themselves in the room according to the candidate they support — Clinton supporters in one corner, Sanders supporters in another, O'Malley supporters in another section, and any undecided voters in yet another area. A candidate needs to receive at least 15 percent of the support to be considered viable, and each group can and will attempt to sway voters in each section to change positions.
For a low-polling candidate like O'Malley, this system can make or break his campaign run: if he can't drum up enough support in the Iowa caucuses, it could be hard for him to justify continuing to run. Conversely, winners of the Iowa caucus won't necessarily be the ones ending up on the final ballot for President — although, according to Vox:
Every winner of a competitive major party presidential nomination contest since 1980 except one started off by winning the Iowa caucuses, the New Hampshire primary, or both.
As the first glimpse into what voters actually think about presidential candidates (in Iowa, at least), the Iowa caucuses are a pretty big deal. And the results will definitely be big news come Tuesday morning.