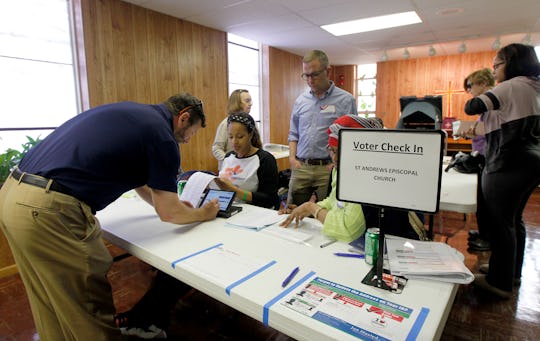 John Sommers II/Getty Images News/Getty Images
What Time Do Mega Tuesday Results Come In? Thankfully, It'll Be An Early Night
Stand back, Super Tuesday: Mega Tuesday has arrived. Sure, there aren't as many states voting in presidential primaries today compared to March 1, but the delegate counts up for grabs make Mega Tuesday a key polling day for presidential hopefuls. What time do Mega Tuesday results come in? Thankfully, the five states holding primaries today — Florida, Illinois, Missouri, North Carolina, and Ohio — span only the Eastern and Central time zones. This means anyone waiting for results won't have to wait until the wee hours of the morning (I'm looking at you, Alaska) to find out early results for each race.
And since it's already Wednesday in the Northern Mariana Islands — the U.S. territory who also held a caucus on Mega Tuesday — those results are already in. Billionaire Donald Trump won the Northern Mariana Islands GOP caucus, with an astounding 73 percent of the vote in the tiny Pacific nation made up of 15 islands. Trump's win secures him nine more delegates in his already massive tally of pledged delegates. On Saturday, former Secretary of State Hillary Clinton won the Northern Mariana Islands Democratic caucus, earning four delegates. Vermont Sen. Bernie Sanders took home just two delegates, as per the territory's proportional delegate system.
Eastern Time Zone States
North Carolina and Ohio close their polls at 7:30 p.m. Tuesday night. Anyone already in line at 7:30 who hasn't voted will still be able to vote on Mega Tuesday in both states. We can expect results to come in shortly after polls close — even with minimal precincts reporting — as has happened in other primaries this season. Ohio is one of three states to watch on Mega Tuesday, as GOP candidate and Ohio Gov. John Kasich hopes to wrangle his home state away from Trump's grip.
Central Time Zone States
Illinois and Missouri close their polls at 7 p.m. Like North Carolina and Ohio, voters who are in line by the 7 p.m. cutoff will still be allowed to vote. Results could be available within minutes of polls closing, but won't be final until all precincts have reported. Illinois, like Ohio, is another important state to watch: Sanders has rallied after Clinton's lead in Illinois, making the Democratic race there that much closer. If Sanders manages to take Illinois, it could be an even bigger upset than Michigan — especially since the Prairie State is Clinton's birthplace.
...And Then There's Florida
Florida has the distinction of being one of 14 states that has more than one time zone. For most of Florida, polls close at 7 p.m. Eastern Time — except for the 10 counties in the Florida Panhandle that are in the Central Time Zone. Those counties — Bay, Calhoun, Escambia, Holmes, Jackson, Okaloosa, Santa Rosa, Walton, and Washington — will close their polls at 7 p.m. Central Time. And Gulf County has two time zones within its own county, but their polls will close at 7 p.m. Eastern Time county-wide. Florida Sen. Marco Rubio hopes to win his home state, but early predictions weren't looking so good for him.
So, whip out your Presidential primary scorecards and settle in around your favorite news station — early Mega Tuesday results should come rolling in right around 8 p.m. Eastern Time and continue throughout the evening.