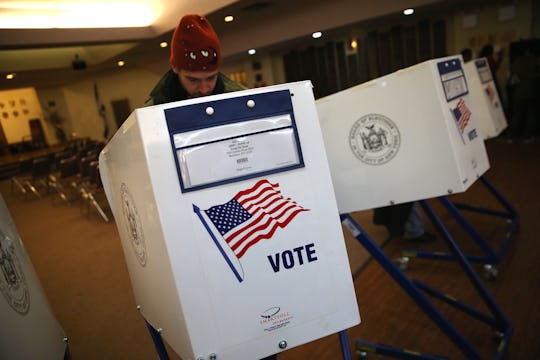 John Moore/Getty Images News/Getty Images
What Time Do New York Polls Close? It'll Be A Late Night
With 291 Democratic delegates and 95 Republican delegates up for grabs, New York's primary election on Tuesday is a pretty big deal. Even though winning all the delegates still wouldn't guarantee a win for any of the candidates, it's a lot, and a win in New York will show which way the wind's blowing for each candidate going forward. Voters are eager to cast their ballots, and the rest of the country is eager to hear the tallies. For those wondering what time the New York polls close, I'm sorry to say that it looks like we'll all be in for a late night, because New Yorkers will be able to vote until 9 p.m. Polls open at 6 a.m. in New York City as well as Nassau, Suffolk, Westchester, Rockland, Orange, Putnam, and Erie counties. Polls in all other counties open at noon.
Currently, former Secretary of State Hillary Clinton 1,758 of the 2,383 delegates needed to win the nomination, while Vermont Sen. Bernie Sanders has 1,076 (although some are superdelegates who are still allowed to change their minds, as no Bernie supporter will let people forget). Over on the Republican side, former reality show host Donald Trump holds 744 of the required 1,237 delegates, Texas Sen. Ted Cruz has 559, and I'm not sure why we're even still talking about him, but Ohio Gov. John Kasich has 144.
A vote in New York holds an extra point of pride for three of the candidates, too: Trump and Sanders are all native New Yorkers. If it weren't for the way both Trump and Sanders drop the H in "huge," one would think that they weren't even from the same planet, never mind the same borough. Clinton isn't a native New Yorker, but it's her current home state; she's lived there since 2000, and served as a senator for New York from 2001 to 2009.
Meanwhile, Cruz's chances don't look too great after he used the phrase "New York values" to insult Trump. Some claim the remark had anti-Semitic connotations, while Trump brought up the World Trade Center in response, à la King of 9/11 Rudy Giuliani. Now, New York voters who don't actually identify with Cruz's characterization New York as "socially liberal, pro-abortion, pro-gay marriage, focus[ed] around money and the media" are less inclined to vote for him after his comments, while those who do agree with that description were never going to vote for him anyway. All this will likely translate into more wasted delegates going to Kasich, which he can brag about in his annual Christmas letter.
Whether New Yorkers would rather see America turned into a liberal utopia or walled off from the rest of the Earth, today's the day to have their voices heard, and tonight's the night the rest of us will hear them... Or tomorrow morning. Yeah, probably more like tomorrow morning.