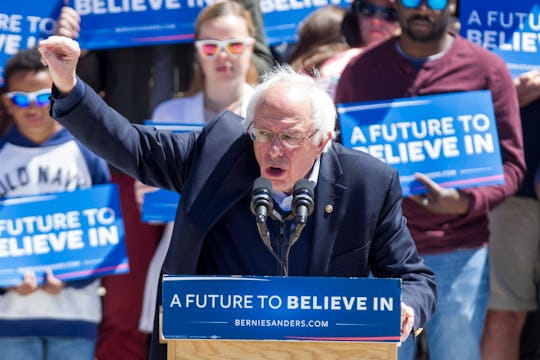 Scott Eisen/Getty Images News/Getty Images
What Time Do Polls Close For The April 26 Primaries? They're Being Called Super Tuesday 3
The heated primary contests head to the Northeast Tuesday as both front runners look to lock up their parties' nominations heading into the summer convention season. Everyone will watch to see how many delegates both Donald Trump and former Secretary of State Hillary Clinton can win in Tuesday's race to keep their leads. So what time to polls close in the April 26 primaries? It all wraps up at 8 p.m. Eastern Time.
Five states are holding primaries today including Pennsylvania, Delaware, Maryland, Connecticut, and Rhode Island. The times the polls open vary by state: Delaware, Pennsylvania, Maryland, and Rhode Island opened this morning at 7 a.m. In Connecticut, polls opened bright and early at 6 a.m. Polls close across all five states at 8 p.m.
Both Trump and Clinton are expected to win big in today's contests. On the Republican side, Trump is on a mission to win 1,237 delegates to wrap up the GOP nomination before the convention (though he won't be able to lock it down by Tuesday). Ohio Gov. John Kasich and Texas Sen. Ted Cruz aren't going to be able to win 1,237, so if Trump can't either, delegates at the convention will have the power to simply choose a nominee. No one thinks Trump would be selected from an open convention where delegates — who are by their very definition Republican-establishment types — would not reward all of Trump's trash talk with the nomination. So, Trump's best path to victory is to win those 1,237 delegates and get the nomination fair and square. But that's going to be a tough slog. There are 172 delegates up for grabs for Republicans today, and according to FiveThrityEight, Trump is expected to pick up about 97 of those.
But Kasich and Cruz have teamed up this week to try and split up the states and spend only in states where they have leads in an effort to keep Trump from picking up the delegates he needs to get to 1,237. Tonight's results will offer the first clues about how effective the Cruz-Kasich alliance will actually prove to perform.
On the left, Clinton, who is also favored to win, is looking to push Sanders out of contention for the nomination so she can stop the bleeding from Sanders' attacks on her qualifications and big bank donors and put all of her resources toward the general election. Based on the contentious tone of the campaign on the Democratic side, it's also going to take some time for Sanders supporters to warm up to the idea of throwing their support behind Clinton. While it's not possible for Clinton to mathematically knock Sanders out of the race, a decisive win in these Northeast states could put Clinton far enough ahead of Sanders to take the hope for a miracle win out of his campaign.
"Hillary Clinton can't win enough delegates on Tuesday to officially knock Bernie Sanders out of the presidential race, but she can erase any lingering honest doubts about whether she'll soon be the Democratic nominee," the Associated Press wrote.
Regardless of the candidate or party, once the polls close at 8 p.m., you can bet news organizations will be quick with an official report on the winners and losers and everyone can get to bed early and get ready for another big primary in Indiana on May 3.