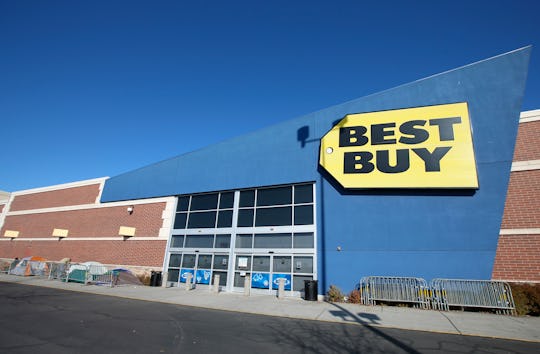 George Frey/Getty Images News/Getty Images
Best Buy's Black Friday Hours Vary By State, Apparently, So Call Before You Go
Black Friday stirs strong emotions in people. You probably feel some type of way towards the single biggest sales day of the year; how could you not have a reaction to an event that causes people to line up outside of malls in pursuit of the best deal? Love it or hate it, you can't deny that the Black Friday sales are ridiculously good, especially for shopping for technology. And if you are on the hunt for some new gadgets, you're probably wondering what time Best Buy opens on Black Friday, because you've got a few items in mind.
Best Buy is without a doubt one of the top retail destinations on Black Friday, and they have been for years. You've probably seen security videos of desperate people fighting over televisions, and I'd put money on the fact that many of those quarrels took place in Best Buys. Getting discount prices on things like televisions, laptops, and phones entices many, so it's not surprising to find people waiting in line for hours for Best Buy to open (there's a whole episode of New Girl dedicated to it in fact). The good news is that you won't have to be waiting too long this year; most Best Buy locations will be opening at 5 p.m. on Thanksgiving day and remaining open until 1 a.m. They'll also reopen at 8 a.m. the next day so the shopping can continue. Bet you're rethinking that 5 p.m. dinner you have planned now, huh?
There are a few very specific exceptions to those hours though. Best Buy stores in Maine, Massachusetts, and Rhode Island will be closed for all of Thanksgiving in accordance with local laws. So you can't shop for tech goods in person at any of those places on Thanksgiving itself. But Maine locations will open at 12:01 a.m. on Black Friday local time, and the Massachusetts and Rhode Island stores will open at 1 a.m. on Black Friday so you can still participate in the first wave of Black Friday frenzy shopping if you want to. Keep in mind that these are the hours that the retailers anticipate opening, but Best Buy recommends looking up your local Best Buy's hours before heading over in case mall hours or anything else forces the store to open at a different time.
If you're in need of tech goodness, Best Buy should be on your list. Their Black Friday deals have reached the thousands this year, and they slashed prices for hundreds of dollars off tvs and whatever else you can think of. A lot of the deals are doorbusters as well, which might give you that extra motivation you've been needing to actually head to the store for the Black Friday sales instead of just shopping online. But the online sales are pretty good too, so you'll probably get what you need at a discount if you choose to avoid the crowds on Black Friday. Whichever way you decide to do your shopping, Best Buy intends to make it worth your time.