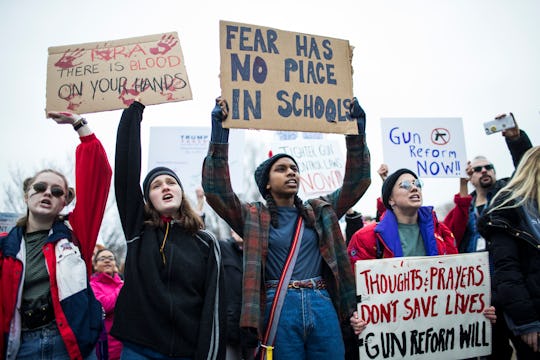 Zach Gibson/Getty Images News/Getty Images
This Weekend's March For Our Lives Starts At A Reasonable Hour: Plan Accordingly
In a gathering similar to the Women's March on Washington, people who are concerned about gun violence in schools will take to the streets of Washington, D.C. this Saturday in the March for Our Lives demonstration. So what time does the March for Our Lives start? It depends on your location.
In Washington, D.C., the March for Our Lives will begin at noon on Saturday, March 24, according to the organization's website. Marchers are asked to gather on Pennsylvania Avenue between 3rd and 12th street for the event. Of course, over 500,000 people are expected to attend the march this weekend, according to USA Today, so it's in your best interest to arrive well before the official start time because it will be crowded. For more information, the March for Our Lives site has a helpful D.C. map outlining pedestrian entrances, bus drop off points, and other important information for marchers who are attending.
If you aren't able to make the march in D.C., however, you aren't out of luck. At this time there are over 800 sibling marches at locations all across the United States and many other parts of the world. To find information about March for Our Lives events in your area, simply search the official website for the sibling events. Chances are, some like-minded people who demand an end to gun violence in schools are gathering in a city nearby. As a quick glance at the map proves, this event is set to receive attention the world over. Oh, and if you want to start your own sibling march, email marchforourlives@everytown.org and check out the toolkit. Yes, there's still time to host a march in your own town, no matter how big or small.
That said, in-person marches aren't the only way to help take a stand against gun violence. For starters, you can sign the March For Our Lives petition that outlines specific plans to protect children from gun violence. Next, if you have an online following, then you can help spread the word on social media with the #marchforourlives tag. Connecting with others about this important issue and spreading awareness is a step almost anyone can take. If you're the crafty sort, consider knitting a pair of evil eye gloves to donate to the D.C. movement, as outlined on Krista Suh's website. They're like the pink Pussyhats that filled the streets of the Women's marches, but specific to the March for Our Lives movement, and they'll create a symbolic sea of eyes watching Congress. Pretty rad, right?
Although the effects of gun violence in schools has been a huge source of contention for years, the topic has reached a boiling point in recent weeks. Following the mass shooting deaths of 17 students and staff at Marjory Stoneman Douglas High School on February 14, 2018, people the world over have spoken out more loudly against gun violence. Earlier this month students all across America staged walkouts from school in protest of gun violence, sometimes in defiance of school authorities, according to The New York Times. The March for Our Lives is another planned demonstration to peacefully draw attention to the issue of mass shootings in schools.
The planned march has gained plenty of attention from the media, as well as financial support from major philanthropists. For instance, Eli Broad gave a $1 million gift pledge to Everytown, according to Inside Philanthropy. "No one should have to endure what the students and families of Parkland suffered ... or what too many Americans suffer daily from our country's gun violence epidemic. This must stop," said Broad. (Everytown has helped organize the March for Our Lives sibling marches.) Celebrity donors such as Oprah Winfrey and George and Amal Clooney have donated hundreds of thousands of dollars to March for Our Lives as well, according to Deadline Hollywood.
It looks like the March for Our Lives demonstration has the collective interest of enough dedicated people to make a serious impact on gun control laws, with young activists leading the charge.
Check out Romper's new video series, Bearing The Motherload, where disagreeing parents from different sides of an issue sit down with a mediator and talk about how to support (and not judge) each other's parenting perspectives. New episodes air Mondays on Facebook.