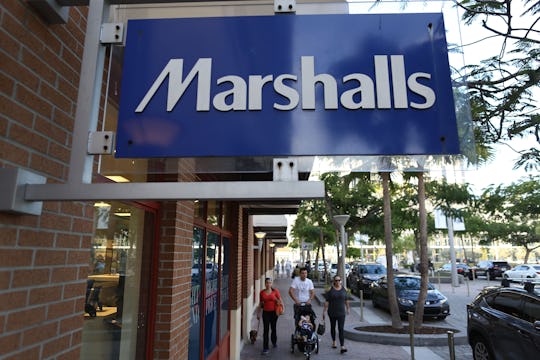 Joe Raedle/Getty Images News/Getty Images
Marshalls Will Open Extra Early On Black Friday, But Don't Expect XL Deals
It's Thanksgiving week and that means I'm counting down the seconds until turkey time, while also carefully mapping out my post-feast Black Friday shopping strategy. But it's all a little confusing since so many of the big retail stores open at different times. If you're like me, you're wondering, "What time does Marshalls open on Black Friday?" because it's time to get serious about stocking up on holiday gifts, and Marshalls always brings the deals.
Unlike many retail chains, Marshalls is not open on Thanksgiving day, and the same goes for its sister stores — HomeGoods and T.J. Maxx, according to Retail Me Not. However, Marshalls will be opening its doors bright and early on Black Friday, with many locations opening at 7 a.m. or earlier, according to their Facebook page. To be on the safe side, it's always a good idea to check your local store's hours in advance to ensure you're arriving at the right time.
Marshalls is known for offering major deals on brand name items, with prices typically 20 percent to 60 percent below department and specialty store prices, according to their website. So, what kind of extra savings can you expect to find at Marshalls on Black Friday? None actually, but that's because Marshalls is an off-price retailer that already offers everyday low prices, according to a Marshalls customer service representative who spoke with Romper on the phone.
"Unlike traditional retailers, we generally don't do promotions, sales, coupons or other gimmicks – just brand name and designer fashions that are 20-60 [percent] less than department and specialty store regular prices on comparable merchandise, every single day," explained to the company website.
That strategy seems to be working for the retailer, since its parent company TJX continues to expand, even as so many other brick-and-mortar stores flounder, according to Forbes. The company credits its "treasure hunt shopping experience" as one of the reasons why their stores — Marshalls, T.J. Maxx and HomeGoods — continue to thrive, Forbes explained.
I have to admit that I do love the thrill of finding a good deal at Marshalls, and I especially love when I stumble upon one of those yellow price tags. For the uninitiated, Marshalls has an entire tagging system that indicates just what level of savings you're accessing. A white tag means it's Marshalls' regular price, a red tag means its a clearance price and a yellow tag means it's a "final clearance" price, according to Clark. In a nutshell, if you see yellow, you've struck gold, and you've gotta buy the thing.
So whether you're shopping for a new sparkly dress to wear to your company's holiday party, a hostess gift to bring to that upcoming holiday soiree, or you're simply on a mission to get all of your holiday shopping done on Black Friday, it's never a bad idea to make a pitstop into Marshalls. Chances are you'll end up with the things on your list and a few other fun "treasures" you didn't expect.