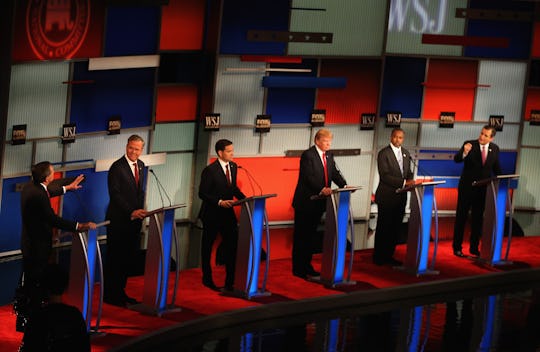 What Time Does The CNN Republican Debate Start? The December 15th Debate Has Same Time, New Criteria
My, how time flies. We're just days away from the next Republican presidential debate on December 15, and — in case you've lost count — this will be the fifth square-off between the GOP's leading candidates. For your watch party planning purposes, the CNN Republican debate starts at 9 p.m. EST. The candidates will head to the Venetian Hotel in Las Vegas, Nevada for this round, at an event hosted by CNN and Salem Radio. Wolf Blitzer, CNN's lead political anchor and host of The Situation Room, will serve as lead moderator. Blitzer will be joined by co-moderators Hugh Hewitt of Salem Radio Network and CNN's Chief Political Correspondent Dana Bash.
Still, several very important aspects of the debate are still unfolding. For example, CNN announced the criteria for the candidates' participation in late October, but the list of participants won't be available until December 13. In order to be eligible for the main debate, a candidate must win at least 3.5 percent in a major national poll, no less than 4 percent among Iowa voters and no less than 4 percent among voters in New Hampshire. Those whose poll numbers fall short will be assigned to the earlier "undercard" debate.
Donald Trump has grudgingly agreed to the fifth Republican debate, after raising concerns that the GOP frontrunner might decline to participate. At a campaign stop in Georgia earlier this month, Trump floated the idea that CNN should pay him to participate, suggesting the network donate $5 million to veteran charities in order to secure his appearance. CNN president Jeff Zucker quickly shut that idea down, saying that CNN doesn't pay candidates to appear on the network. Something tells me Trump won't turn down an invitation regardless.
Image: Scott Olson/Getty Images