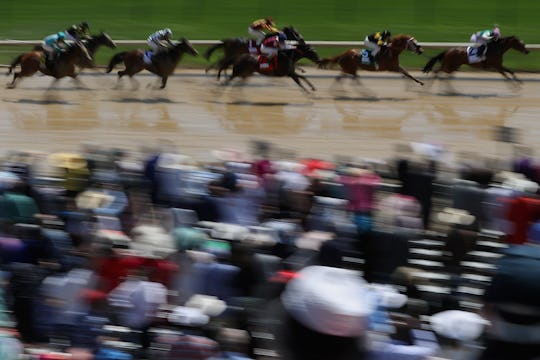 Patrick Smith/Getty Images Sport/Getty Images
What Time Does The Kentucky Derby Race Start?
You might not be in Louisville wearing a brightly-colored funky hat this Saturday for the Kentucky Derby at Churchill Downs, but that doesn't mean you can't join in the festivities from the comfort of your home. But, before you bust out your southern-themed snacks, prep your mint juleps, and pick out your favorite thoroughbred to place your bets on, you might want to know what time the Kentucky Derby race starts because it fluctuates a bit each year.
This year, though, what's called "the best two minutes in sports" is expected to start at at 6:34 p.m. Eastern Time, according to CBS Sports. But, people don't get all dolled up just for the race — some other noteworthy things happen on Derby Day that viewers at home should tune into as well.
Although coverage began at 2:30 p.m. local time on NBC, the real fun starts at approximately 5:08 p.m.when Harry Connick Jr. performs the national anthem, according to The Los Angeles Times. Not long after that, all 20 creatively-named and talented horses will begin their walk from the stables to the paddock at about 6:05 p.m. Then, at approximately 6:31 p.m. the jockeys will start to get on their horses, which is technically referred to as "the call of the 'Riders Up,'" as The Los Angeles Times reported.
While all of this is happening, the traditional singing of "My Old Kentucky Home" will be performed by the University of Louisville Marching Band. (Fun fact: the song has been performed by this ensemble, with only a few exceptions, at every Kentucky Derby since 1936, according to the site.) If you want to sing along, you can have a look at the lyrics here.
After that, the jockeys will then briefly warm up with their horses with a bit of jogging and trotting around and the $2 million Kentucky Derby race will officially start — which will probably be just before 7 p.m. Louisville time.
If you have a television at home, you can simply switch to NBC to watch the race. But, if you don't have one, as Sports Illustrated reported, the Kentucky Derby will also be livestreamed on NBC Sports Live and through Fubo TV, a sports-centric Internet TV streaming service that requires a subscription.
Although each race is a memorable one, the 143rd Kentucky Derby could be even more so since it might "take place on a less-than-ideal track" after more than two inches of rain fell on Friday evening into Saturday morning. So, if you were only planning on tuning if for the race, make sure to watch out for some sloppy conditions that could throw things for a loop as well — and the hats, of course.