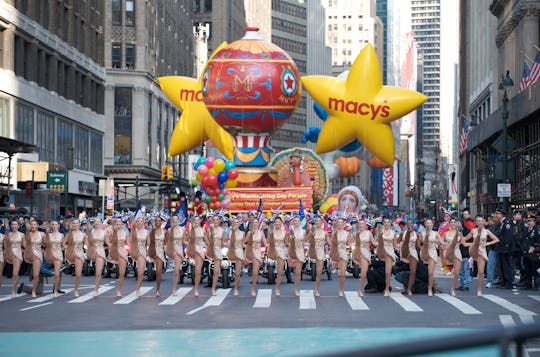 Macy's
You Won't Want To Miss The Macy's Thanksgiving Day Parade This Year
Believe it or not, fall is almost over, and that means that Thanksgiving is right around the corner. Aside from the iconic feasts and football games, one of the most celebrated Thanksgiving traditions is sitting down with the family to watch enormous balloons and floats prance through the streets of Manhattan. If you don't want to miss out on the action, you're probably wondering, what time does the Macy's Thanksgiving Day Parade air?
The parade will start at 9 a.m. ET on Thursday, Nov. 22 (Thanksgiving Day) and will continue until noon. You can catch the live broadcast on your local NBC station, or login to NBC.com to stream the parade online. Macy's has also partnered up with Verizon to bring viewers a 360-degree live stream, which you can find on Verizon's Youtube page when the parade begins at 9 a.m. ET.
The Macy's Thanksgiving Day Parade tradition began in 1924, and now with 92 years of festivities under its belt, has has become one of America's most iconic holiday celebrations. According to Macy's, this year's parade will feature 16 giant character balloons and 43 novelty balloons, including new characters like elf stars from Netflix's The Christmas Chronicles and The Nutcracker from Universal Orlando Resort. The celebrations will also include 26 floats, 1,200 cheerleaders and dancers, more than 1,000 clowns, and 12 marching bands. With the performers, athletes, and crew, this year the parade will be shaped by over 8,000 participants.
As you wake up Thanksgiving morning, grab your coffee, and turn on the parade, you'll probably see The Today Show's Savannah Guthrie, Al Roker, and Hoda Kotb smiling back at you in all their holiday cheer. The trio is set to host the three-hour broadcast, and will fill you in on all the details of the balloons, the performances, and those amazing floats. While this is Kotb's first year hosting and Guthrie's seventh, 2018 marks Al Roker's 24th year hosting The Macy's Thanksgiving Day Parade, which makes him a part of the holiday tradition in his own right.
You can also expect to see a lot of star power as the parade floats through New York City. Macy's has confirmed that a long list of celebrities — including Bad Bunny, Barenaked Ladies, Bazzi, John Legend, Leona Lewis, Martina McBride, Rita Ora, Pentatonix, Ashley Tisdale, and Mackenzie Ziegler — will join the floats on parade. Anika Noni Rose, the cast and Muppets of Sesame Street and the Radio City Rockettes will perform at the parade, and Motown queen Diana Ross with will be there with her extended family, including her kids, Tracee Ellis Ross and Evan Ross along with wife Ashlee Simpson-Ross.
It's going to be a treat to see all those celebs bringing the holiday spirit, but there's one celebrity that my family and I look forward to seeing every year, and he never disappoints. Sticking true to its 92-year tradition, The Macy's Thanksgiving Day Parade will end with an appearance by the one-and-only Santa Claus. If you've been extra good this year, you may even be able to vibe your wishlist to him through the TV. Hey, it's Christmas time so miracles are possible, right?
So before you go into turkey mode, or shopping mode, or football mode, you can start out your Thanksgiving by getting into the holiday spirit with one of the world's biggest holiday celebrations.
The 92nd Macy's Thanksgiving Day Parade airs on Thursday, Nov. 22 at 9 a.m. ET on NBC.