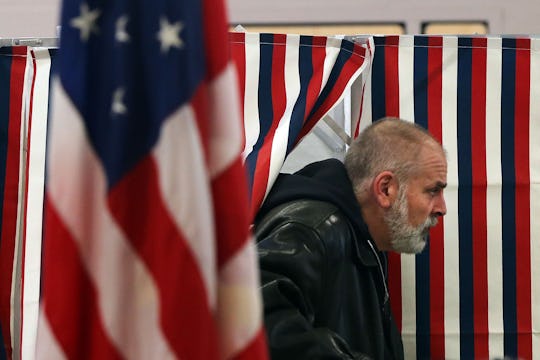 Spencer Platt/Getty Images
What Time Does the New Hampshire Primary End? Candidates Won't Have To Wait Long To Hear The Results
With the Iowa caucuses now in the past, the focus has turned to Tuesday's New Hampshire primary. The field has dwindled: Vermont Sen. Bernie Sanders goes up against Hillary Clinton, one-on-one, while the Republican party field remains large, with no clear front-runner going into the Granite State. With that much uncertainty — and candidates as polarizing as Donald Trump on the main stage — many Americans will be glued to their smartphones or laptops as the primary results and analyses come in Tuesday evening. So, when will the results be announced, and what time does the New Hampshire primary end?
Well, if you are ready to commit to the long-haul, polls open for the 2016 New Hampshire primary at various times throughout the morning Tuesday so Democrats and Republicans can head out to cast their vote. New Hampshire state law requires polling places — which there are 319 of throughout the state — be open from 11 a.m. to 7 p.m., but the towns and cities are allowed to set their own hours, and some open as early as 6 a.m. If you take a look back, during the 2012 New Hampshire primary, it didn't take long for the winner to be announced in the Republican party. In fact, former Republican candidate Mitt Romney that year gave a victory speech 30 minutes after the polls closed.
Romney, of course, had an enormous lead. This time around, the primary is shaping up to be a multi-candidate race. For the democrats, Sanders is largely the favorite in the national polls. New Hampshire is a neighboring state to Vermont, and considered to be even more liberal — a potential plus for Sanders voter turnout this Tuesday.
However, among the much-larger Republican candidate field, Donald Trump may be the overall, clear front-runner, but one has to wonder whether that will fade as it did on caucus day in Iowa. For now, support for the billionaire remains strong, but all that could change by the end of the day.
Since Trump's current base includes a lot of first-time voters, turnout remains a concern. Texas Sen. Ted Cruz and Florida Sen. Marco Rubio are also part of the right-wing competition. And even New Jersey Gov. Chris Christie is riding high after his strong showing during Saturday's Republican debate.
On the Democratic side, although Sanders is the favorite in progressive New Hampshire, Clinton is coming off a great performance in Thursdays Democratic debate in the Granite State, which CNN's Tim Stanley described as "a genuine philosophical content — between the senator's populist radicalism and the Secretary of State's gradualist reformism."
A snowstorm was thwarting many of the candidates' last efforts to connect with New Hampshire voters on Monday, but many were braving the weather anyway. In fact, Trump held what he called "our final love-fest" in a last-ditch appeal to Granite State voters. In contrast, Clinton took a cautious approach at an afternoon rally at Manchester Community College, while Sanders didn't seem to have any concerns about Tuesday's events. "I think we are going to do just fine tomorrow," Sanders told an auditorium of supporters at a theater in Manchester Monday night, according to The New York Times.
The New Hampshire primary results are much easier to track for those tallying results then the recent Iowa Caucuses, meaning the public and the candidates won't have to wait near as long to find out the results. Thank goodness.