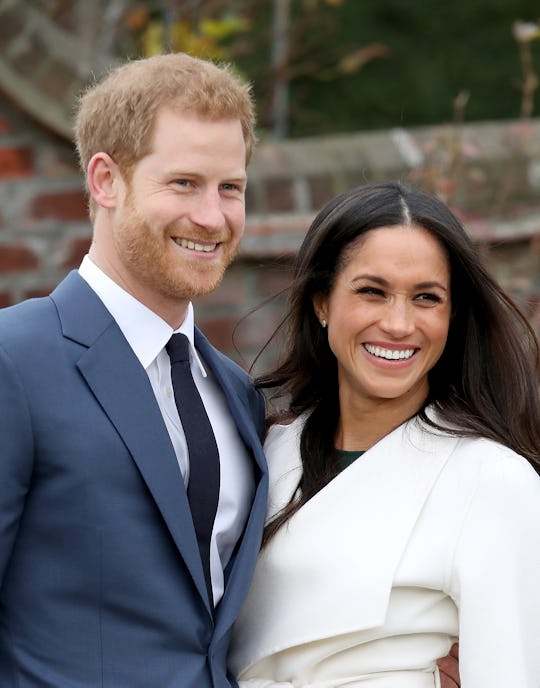 Chris Jackson/Getty Images Entertainment/Getty Images
Here's When The Royal Wedding Will Air In Eastern Time
We've all waited months to see Meghan Markle and Prince Harry tie the knot, but the big day is finally almost here: the royal wedding is set to take place Saturday at St. George's Chapel at Windsor Castle. It'll be an event watched by royal fans around the world, but the timing of the wedding will be less convenient for some compared to others. What time does the royal wedding air in Eastern Time? The wedding ceremony will begin at noon, local time, but if you're not in London, you might be in for an early morning. The wedding itself will begin at 7 a.m. ET, according to Business Insider — but if you're just tuning in then, chances are you'll have already missed a fair bit of coverage.
The high profile nature of the royal wedding means that correspondents from nearly all the major news channels will be offering up their commentary and viewpoints about pretty much every wedding-related detail ahead of the actual event. But tuning in before the ceremony begins also means catching glimpses of the wedding guests — including the Queen herself — as well as the 10 children the couple chose as bridesmaids and page boys (Prince George and Princess Charlotte included). But most importantly, it also means having a chance to watch the bride arrive at the church by car, accompanied by her mother, Doria Ragland.
So what time might you actually want to start watching, so you don't actually miss any important details? Most major channels will have their royal wedding coverage beginning a few hours before the wedding itself. Gayle King and Kevin Frazier will co-host CBS' royal wedding coverage beginning at 4 a.m. ET, while at NBC, Savannah Guthrie and Hoda Kotb will kick off their royal wedding coverage half an hour later, at 4:30 a.m. ET, as will PBS, and BBC America. ABC, CNN, FOX, and E!, on the other hand, will all begin their live coverage at 5 a.m. ET. (If watching online is more your speed, the wedding will also be broadcast live on the Royal Family's Facebook Page beginning at 6 a.m. ET.)
As for what viewers can actually expect to see that early in the morning, The Telegraph has noted that the individuals who have been invited to watch the wedding from the Windsor Castle grounds will begin arriving at around 4 a.m. ET — around the same time the televised coverage is scheduled to begin — while wedding guests will begin to arrive and be seated in the chapel soon after, between 4:30 and 6:00 a.m. ET. At around 6:20 a.m. ET, members of the royal family will begin arriving, with Prince Harry and his best man, Prince William expected to turn up at 6:45, and the Queen coming last, 10 minutes later. As for Markle? She and Ragland will pull up by car just before the scheduled 7 a.m. ET start.
After the ceremony finishes, the newlyweds will embark on a 25-minute carriage procession throughout the town of Windsor, beginning around 8 a.m. ET. The couple will then return to Windsor Castle, where they will have a (sadly not televised) lunch reception hosted by the Queen at St. George's Hall. Later in the day, the couple will proceed to Frogmore House, where they will attend a private evening reception for family and close friends, hosted by Prince Charles.
Although the time difference will mean that the royal wedding festivities will start pretty early, it definitely seems like it will be worth getting up for. But if you've planned a royal viewing party and you live in the eastern time zone? You might want to make sure you've got plenty of coffee on hand for your guests.