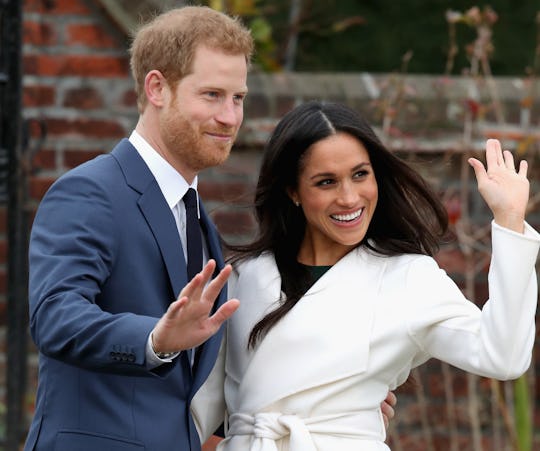 Chris Jackson/Getty Images Entertainment/Getty Images
Here's When Time The Royal Wedding Will Air In Pacific Time
Even if you're an American who is not in any way affected by a new member joining the British royal family, you're not alone if you're very interested in Prince Harry and Meghan Markle's upcoming nuptials. And depending on where you live in the United States, you may have to get up earlier than others in order to catch the live broadcast of the event on television. For instance, if you live on the West Coast, you may be wondering — what time does the royal wedding air in Pacific Time? You'll have to wake up a little earlier than your East Coast friends, but if you're a Prince Harry and Markle shipper, it will be more than worth it.
After months of speculation, and weeks of drama thanks to family matters and royal preparation, it's hard to believe it's really time for Prince Harry and Markle's wedding. Some of the most recent news on the wedding front includes the update that Prince Charles will walk Markle down the aisle at the big event, since her father, Thomas Markle, is unable to travel to the United Kingdom, according to The Telegraph.
But in a feminist twist that I personally love, the ceremony will not include the usual moment when the presiding Archbishop asks: "Who giveth this woman to be married to this man?," The Telegraph reported. That means Markle won't be formally "given" to Prince Harry. Isn't that a historic moment you're going to want to catch, even if you have to get up super early to see it?
Prince Harry and Markle are getting married at St. George's Chapel at Windsor Castle at "midday" their time on Saturday, according to Newsweek. The ceremony itself starts at noon, but guests are expected to begin arriving between 9:30 a.m. and 11 a.m. in the U.K. that day, The Cut reported.
So what does that mean for Pacific Time viewers? Prince Harry and Markle are scheduled to be married at 4 a.m. Pacific Time, according to Newsweek. But coverage will actually begin at 2 a.m. for many of those in the Pacific Time zone. That means you've got to be seriously committed if you live somewhere like Oregon and you want to watch the wedding unfold, from start to finish.
If you want to see it all, TODAY at the Royal Wedding starts at 1:30 a.m. Pacific Time, according to USA Today. MSNBC, PBS, TLC, and many other channels will also be covering the event in some way starting very early in the morning.
If you're looking for a more humorous take on the affair, HBO will air The Royal Wedding Live With Cord and Tish! starting at 4:30 a.m. Pacific Time, according to USA Today. Actors Will Ferrell and Molly Shannon will play parody characters Cord and Tish and comment on the wedding in real time. And if you want to watch it without commentary the first time around, but watch it with some funny coverage a second time, that special will replay later in the day.
The royal family will actually show up at the wedding by 3:20 a.m. Pacific Time, according to The Cut. They will be followed by Prince Harry and Prince William, then Meghan and her mother. So if you're interested in seeing any of them arrive at the venue, you should have your TV turned on to one of the stations covering the royal wedding before that.
What time the royal wedding "airs" in Pacific Time depends on what you actually want to see. The wedding itself is supposed to be on at noon in the U.K., and 4 a.m. Pacific Time. But if you want to catch anything before that, you've got to wake up even earlier, park yourself on the couch, and settle in. But if you've been waiting months for the royal wedding, like so many others, that early hour wake-up will definitely be worth it.