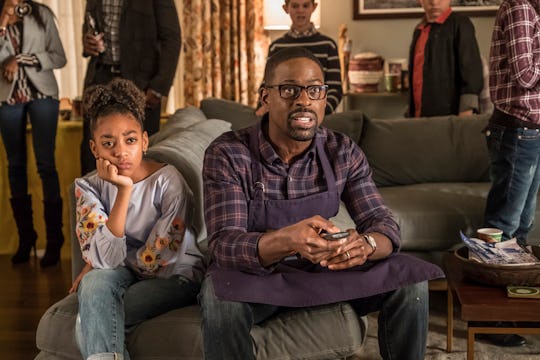 Ron Batzdorff/NBC
'This Is Us' Stars, Here's What You *Really* Want To Know About The Super Bowl Episode
The next episode of This Is Us, Episode 14, has been both highly awaited and perhaps a little bit dreaded by fans. That's because after two seasons of wondering, it will finally answer every question viewers have about Jack Pearson's untimely demise. It won't do so in its usual time slot, however, and instead airs on Super Bowl Sunday. But what time does This Is Us start after the Super Bowl?
The Super Bowl will dominate the programming on NBC on February 4, with a pre-game show beginning at 1:00 p.m. and ending at 6:00 p.m. when Super Bowl LII finally gets underway. The big game ends at 10:00 p.m. and will be followed by a fifteen minute post-game show. Then and only then will This Is Us reveal and devastate from 10:15 P.M. to 11:15 p.m. That's according to the guide on my television, at least; if the game runs long or ends a little sooner than expected, it's possible the timetable might change slightly.
This Is Us may be airing late on a Sunday after a busy day of cheering, arguing, and snacking at Super Bowl festivities, but it's an episode you'll definitely want to stay up for.
It might seem unusual for This Is Us to skip out on its usual Tuesday airdate, but this special spot after the Super Bowl suits the episode perfectly. Watching football has always been important to the Pearson family, but their beloved tradition becomes tragic in Episode 14. "That'll Be The Day" set up the situation by following what was, unbeknownst to the family, Jack's last day. It was Super Bowl Sunday, but none of the Big Three wanted to spend it at home. Instead the day was devoted to petty squabbles, big business decisions, and heartfelt family talks. So, all in all, a pretty typical day for the Pearsons.
After everyone went to bed, Jack decided to clean up the kitchen. However, he had forgotten that the knob on their particular Crock-Pot was prone to acting up and it switched back on after he turned it off. Then it sparked and set fire to a nearby dish towel before quickly spreading to the rest of the kitchen, then the rest of the house. The episode ended with the home ablaze, and Episode 14 will play out the heartbreaking conclusion. It's only fitting that it air after the Super Bowl, since that's when the episode takes place.
Though the episode is guaranteed to make viewers cry all of the tears that they have left in their bodies, star Mandy Moore told Entertainment Tonight that she thought it would ultimately be a good experience. "I can't wait for fans to see our Super Bowl episode," she said. "People will get a lot of answers and will be able to move forward. I think for everybody's sake it'll be a good thing."
But her co-star Milo Ventimiglia informed Entertainment Weekly that Jack's death would also be exactly as painful as fans expect it to be. And he should know, as the man in question. "It's just an absolute soul-crushing event," he said. "Once you figure out the moment where it's going to happen, you may get some hope — and then it's all going to go away. I think the best thing I can say — or the worst thing I can say — is: It's going to be f**king painful."
How prepared you are to deal with the despair may depend on whether or not your team emerged victorious at the Super Bowl. But even though it's going to hurt, there might be some closure in finally getting to see what happened to Jack.