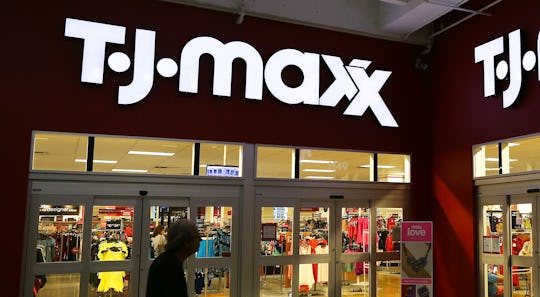 Joe Raedle/Getty Images News/Getty Images
Yes, They're Opening Early, But T.J. Maxx Isn't All About The Black Friday Hype
There are really only two kinds of people in this world — those who love T.J. Maxx, and those who haven't yet discovered that they do. For the bona fide Maxxinistas out there, there's really only one question to ask heading into this holiday weekend: what time does T.J. Maxx open on Black Friday? When there's shopping to be done, you better believe T.J. Maxx is going to be on the itinerary.
To kickoff your holiday shopping spree, a trip to the bargain retailer is a must. But, unlike other retail stores staying open on Thanksgiving to jumpstart their Black Friday sales, T.J. Maxx is taking an entirely different approach. T.J. Maxx is closed on Thanksgiving and will open at 7 a.m. on Black Friday, according to a customer service representative who spoke with Romper on the phone. However, the rep advised that it's always a good idea to check your store location's specific holiday hours as some store hours may vary.
In an older, but still cheeky Black Friday Facebook post, the retail chain said, "Enjoy your Thanksgiving and get your beauty sleep – the brands you love will be waiting for you once you've had your coffee."
I think it's totally refreshing that T.J. Maxx is closed on Thanksgiving Day, and is open at a reasonable time on Black Friday. But T.J. Maxx has a pretty good reason to make fun of the hype surrounding Black Friday: They offer prices generally 20 percent to 60 percent below full-price retailers year-round, according to the TJX (its parent company) website.
If you're hoping for extra Black Friday deals at T.J. Maxx however, you're probably not going to find them. Because the prices are low every day, according to House Beautiful, they're not offering any additional promotions. While the store's website advertises its "Merry to the Maxx" deals — offering 20-50 percent off on gifts — those are the same savings that can be found year-round. So I guess the lesson is every day is Black Friday at T.J. Maxx.
It's perhaps this bargain strategy that explains the store's success. T.J. Maxx, along with its sister stores, Marshalls and HomeGoods — all owned by TJX Companies — continue to see sales grow even as other brick-and-mortar retailers shut down and cede business to Amazon, according to Forbes.
"At the moment, TJX is "unAmazonable" because customers have to come into the store if they want the goods. And the goods are always rotating, changing and never cease to deliver," explained President and CEO Ernie Hermann in an interview with Forbes.
It's true that T.J. Maxx's prices are often cheaper than Amazon's, according to the site Clark, which compared 12 items available on both retailers and found that T.J.'s to be lower, sometimes by a substantial margin.
I, for one, will be heading to T.J. Maxx to score some affordable holiday gifts for the fellow Maxxinistas in my life. My go-to Maxx items are usually sheets, luggage, and outerwear, and I have no doubt that I'll be walking out of there with those items, and some other unexpected treasures, this weekend.