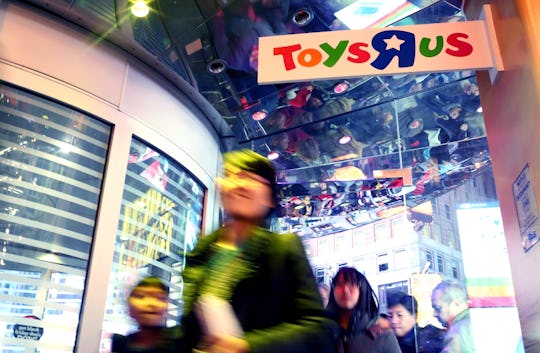 Yana Paskova/Getty Images News/Getty Images
What Time Does Toys R Us Open On Black Friday 2016? Get Ready To Leave Dinner Early
When it comes to holiday shopping, toys are the most fun gifts to buy. Even when you're well into adulthood, there's something magical about wandering the aisles of a toy store. Unfortunately, because pretty much everyone shares these sentiments, toy stores are going to be super crowded for the next month. So if you're shopping for your own kids, nieces, nephews, or friends, then it's smart to know the best time to go toy shopping. With this in mind, you may be wondering what time does Toys R Us open on Black Friday 2016 and what are the store's choice deals?
Like many retailers, Toys R Us no longer waits until Friday to unleash their major deals. In fact, many Toys R Us stores will be open from 5:00 p.m. Thursday night straight through 11:00 p.m. Friday night, as noted on the store's official website. Basically, you can enjoy 30 straight hours of toy shopping madness. Individual store hours may vary, however, so you can double-check with your local Toys R Us while planning your shopping.
What deals can expect while trolling the aisles at 4:00 a.m.? There are plenty, and some of the deals are in-store only. As far as these deals are concerned, you can score an Imaginarium All-in-One Wooden Train Table for $80 (regularly $130), or a Wild Thing by Power Wheels for $200 (normally $300). On the smaller scale, you can pick up a Cabbage Patch Cutie for $5, instead of the regular $10. From video games to Nerf guns, plenty of toys are on sale starting Thanksgiving evening.
But even if you aren't into Black Friday (or Thursday) shopping, you can still clean up nicely with some online deals. According to the store's ad, you can start shopping Toys R Us Black Friday deals online starting at 9:00 p.m. ET on Wednesday, Nov. 23. So even though all Toys R Us stores will be closed nationwide, you can still kickoff your holiday shopping from the comfort of your own home. The exact deals for this sale will go live Wednesday, but you can go ahead and browse the store's site to get a sense of their general stock. Whether you seek out the deals online or in person, hopefully you'll find the toys for everyone on your list at a tidy little discount.
Shop the Toys R Us Black Friday Sale at ToysRUs.com.