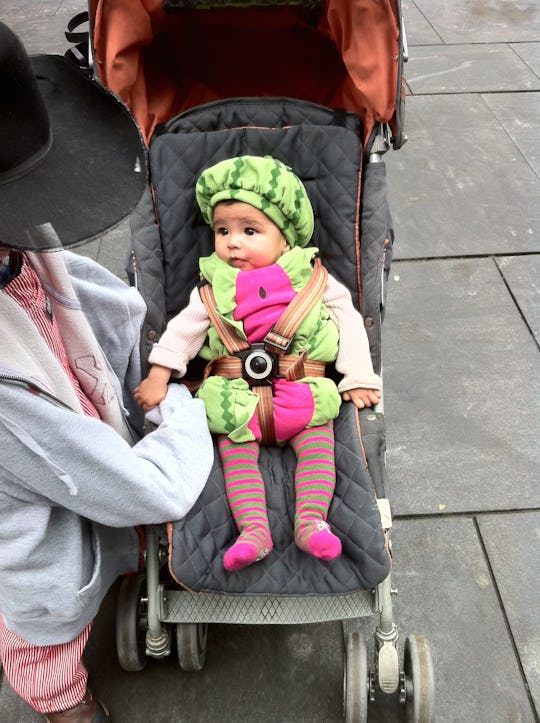 Courtesy of Cat Bowen
Here's When You Can Head Out For Trick-Or-Treating Without Being *Too* Early
What's not to love about trick-or-treating? It's the day replete with buckets full of free candy, everywhere you turn fancy dresses and lightsabers abound, and there's always at least one awesome family giving out full-sized candy bars. It's all of the pomp of a great holiday with none of the family fighting or racist uncles who drink too much at dinner. But how do you know when it's time to go out, beyond stalking neighborhood children dressed as vampires? If you're new to this, you need to know, what time does trick-or-treating start?
Trick-or-treat times vary widely across the United States. Many cities are traditional, designating times on the evening of Halloween for the ghouls, goblins, and Storm Troopers to gather their goodies. However, more and more municipalities are choosing to set the time earlier in the day or week so that children aren't trick-or-treating at night time, hopefully allaying concerns of parents worried about the safety and health of their little witches and wizards. In areas like Canton, Ohio, kids go trick-or-treating on the Sunday before Halloween between the hours of 3 p.m. and 5 p.m. Having grown up in the area, I will tell you that many of us were jealous of our neighbors in Cleveland and Akron who got to go out on Halloween night, but our parents were grateful that it happened on a weekend and not after a long day of work.
Growing up, I always knew where and when to go trick-or-treating. The rules were set forth by our local trustees, and then printed in every paper in the area. Moving to New York City, I learned this is not the case everywhere. I don't want to say that New Yorkers view trick-or-treating like a free-for-all, but if you asked people when to go trick-or-treating, you'd get a different answer for each person you ask. Some people start as early as right after school at around 3 p.m., while some start after work, around 6 p.m.. As for when it ends? When stores put signs in the windows reading "out of candy," and neighborhood porch lights go out. Last year, this happened at about 9 p.m.
That doesn't mean Halloween is over in New York by any means. The parade and after parties in the West Village neighborhood in Manhattan rage all evening, and where I live in Brooklyn, spontaneous block parties with creepy cocktails and apple bobbing are common. From what I understand from talking to friends across the country, this is fairly common in urban centers, like New York and Los Angeles.
Your best bet is to either call your local municipality or check the local paper (online or print), or television station's website in the week before Halloween. Typically, the hours and places are listed by neighborhood. You could also talk to your surrounding neighbors to see when they expect the first trick-or-treaters to arrive, or you can wait until about dusk so it's still light enough to see, but not so early you're ringing the doorbell during dinner. According to Newsweek, a 2015 poll found that most people believed the perfect trick-or-treating time was between 6 p.m. and 9 p.m. Honestly, that sounds right to me.
If you're really in it to win it, you can plan your trick-or-treating around the best neighborhoods for candy dispersal, and stagger your evening so that you hit each neighborhood as their trick-or-treat opens, ensuring yourselves — I mean your children — the best, top shelf candy. Is it gaming the system? Perhaps, but because it requires so much effort and timing, not many will go this route. But I consider Halloween an endurance sport with better outfits, so I'm OK with it. Otherwise, you can always just check and be the first family out so you can get home early and see what's on Freeform's 31 Nights Of Halloween. Fingers crossed for another airing of Hocus Pocus.