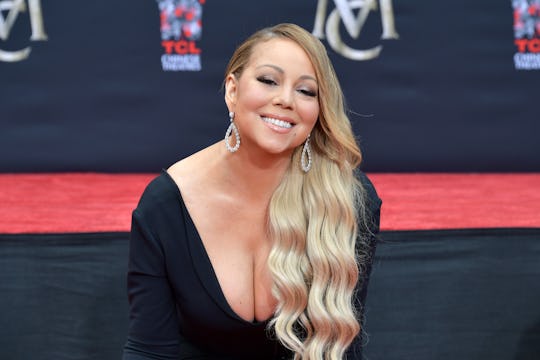 Neilson Barnard/Getty Images Entertainment/Getty Images
Here's When You Should Tune In To Watch Mariah Carey's New Year's Eve Performance
After Mariah Carey's less than stellar performance on last year's New Year's Rockin' Eve, she decided to rescue her reputation by appearing on the show again. No one could forget her previous performance (the feathery fans, the glitter, the open irritation) even though it wasn't memorable for positive reasons, which makes watching this year's a necessity. But what time is Mariah Carey performing on New Year's Eve? You don't want to miss it, because whether it's spectacular or just as iffy as last year's, it's going to be the thing to watch.
Dick Clark's New Year's Rockin' Eve with Ryan Seacrest airs on ABC on Dec. 31 at 8 p.m. EST. Carey's performance won't start promptly right then and there because there will be introductions and lead-ins, plus several other performances from other artists to fill the runtime. However, host Ryan Seacrest spilled the beans about when exactly Carey would be stepping in front of the cameras to (hopefully) slay everyone watching.
Seacrest told Good Morning America that he was excited to have Carey back and that she would be singing several songs, just like she was supposed to last year. In her prior performance, she stumbled through "Auld Lang Syne" and "Emotions," but the set list might have changed this year. "She's going to do a couple of songs," he said. "One of which will be 'Hero' right before midnight outside in that cold."
That means if having a rockin' celebration isn't your speed but you absolutely need to watch Carey's performance, you can probably wait and check in as it gets closer to 12 a.m. EST. Considering how much anticipation there was for her return to form, it comes as no surprise that the program decided to save Carey's portion of the evening until close to the end. Not only will it continue to build curiosity and excitement, but it will keep people watching until the final moments. Unless, of course, you tune in at the exact right time.
But before Carey takes to the stage, there will be plenty of other numbers to enjoy, so you might not want to write off the rest of New Year's Rockin' Eve just yet. Seacrest and Jenny McCarthy will be hosting from Times Square, where Camila Cabello, Nick Jonas, and Sugarland will be taking to the stage. There will also be a Las Vegas broadcast from Britney Spears, and countdowns on the other coast as well.
The West Coast countdown is being hosted by Ciara, with a long list of performers that include Alessia Cara, Halsey, Hailee Steinfeld, Kelly Clarkson, Khalid, Florida Georgia Line, Portugal, The Man, Zedd, G-Eazy, Bebe Rexha, Alesso, Kane Brown, BTS, Charlie Puth, Shawn Mendes, and Fitz & the Tantrums. Meanwhile, Lucy Hale will take on hosting duties in New Orleans, where Imagine Dragons and Walk the Moon will perform.
Carey's return might be especially exciting because of last year's — how to put this delicately? — flop, but she's just one of many artists here to entertain the audience from 8 p.m. to 2 a.m. EST. Audience members should keep their fingers crossed that there won't be any technical difficulties to impede the songs like there was last time. Still, after everything that happened (and the all the publicity that followed), it seems safe to assume that the crew will be double- and triple-checking all the equipment.
In a joint statement, Carey and Dick Clark Productions admitted that last year's performance didn't go as planned, but one can only hope that this year it sticks to the schedule. If so, that means that shortly before the countdown to Jan. 1 begins, Carey will be dazzling her viewers from Times Square.
Check out Romper's new video series, Romper's Doula Diaries:
Watch full episodes of Romper's Doula Diaries on Facebook Watch.