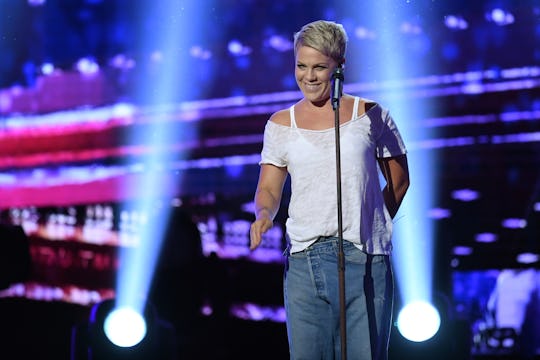 Kevin Winter/Getty Images Entertainment/Getty Images
You Won't Want To Miss Pink's Performance At The Super Bowl
Although it's a travesty that Pink wasn't asked to do the Super Bowl halftime show, fans can content themselves with the fact that she's at least getting to sing the "Star Spangled Banner" to kick off the game. Since it's not a very long song, you want to make sure you know what time Pink is performing at the Super Bowl so you don't miss a single note.
The game starts at 6:30 p.m. ET, so you're going to want to get situated by then. Usually, there's a little introduction, the teams are announced and line up on the field and then the song starts. Normally, it's just about sitting through the high notes, but this year might be very, very different.
One of the hallmarks of this NFL season was the players protesting police brutality and racial inequality by taking a knee during the anthem. It's not been reported if the Philadelphia Eagles or the New England Patriots have any anthem protest planned. However, throughout the season, a handful of Eagles players protested by raising their fists, while remaining standing during the games, though a few ended their protest midseason. Likewise, on the first weekend of the season, after President Donald Trump denounced the protests that were started by San Francisco 49ers quarterback Colin Kaepernick in 2016, 17 Patriots players protested by taking a knee, but haven't since.
According to CNN, if any players protest, NBC plans on showing them on screen, as they definitely should. Pink probably won't mind, either.
Pink has been very open about her feelings for Trump and for standing up to the powers that be, so if a player wants to kneel, the singer will likely encourage it. Her past few hits, like "What About Us" and "Wild Hearts Can't Be Broken" are anthems in their right.
But the National Anthem is a notoriously hard song to sing. Given her stellar, low-key performance at the Grammys last weekend, she's ready for it. In Las Vegas, bookies aren't taking bets as to whether she'll choke, but rather how long she'll take to sing the song. The time is meant to be two minutes, but, according to Bleacher Report, people who think she'll go over have to shell out $140 to win $100. The ones who believe it will be less can place their bet at even odds. Only in America, folks.
That Pink is singing the anthem is actually kismet, in a way, too. The singer is from Doylestown, Pennsylvania, which is just about a half hour outside of Philadelphia, so you know who she'll be rooting for.
After the team made it into the game, she tweeted, "Ummm. I'm singing the national anthem and the EAGLES ARE PLAYING?!?!?! IS THIS FOR REAL?!?!?!THATS WHASSUP!!!!!!!!" She added a whole bunch of random letters just to emphasize the point, in case we didn't get that she was thrilled. The Philadelphia-area native hollered at her brother, tweeting, "I would bet money that my big brother is somewhere crying right now." So this anthem is a family affair.
Incredibly, Pink has been dominating the airwaves and our hearts for a decade, but she's never performed at the Super Bowl. Not even in those huge ensemble halftime shows that were so popular in the early aughts. Hopefully, when she nails the anthem, the Super Bowl powers that be over at the NFL and Pepsi will invite her to do one soon. She definitely has the chops. But we'll take her two minute pre-game for now.
Check out Romper's new video series, Romper's Doula Diaries:
Watch full episodes of Romper's Doula Diaries on Facebook Watch.