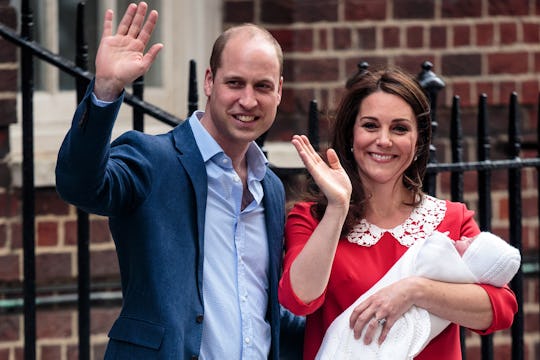 Jack Taylor/Getty Images Entertainment/Getty Images
The Palace Has Released Some New Details About Prince Louis' Christening Next Month
The younger generation of the royal family isn't afraid of blazing their own trail and breaking tradition now and then. Today, for instance, the palace announced the Duke and Duchess of Cambridge, Prince William and Kate Middleton, are doing just that with the time of Prince Louis' christening service. Traditionally, the ceremony has taken place in the morning, but Prince William and Middleton have moved Prince Louis' event back a few hours.
Whereas Prince George was christened in the morning, according to Hello! Magazine, Kensington Palace reportedly issued a statement noting that that Prince Louis' service will take place at 4 p.m. GMT on July 9 and is expected to last for 40 minutes. The location will be the same one used for the christening of Prince George, the Chapel Royal at St. James Palace will host the event, according to statement from Kensington palace. The Archbishop of Canterbury will conduct the baptism, the palace also noted. Princess Charlotte's christening service was also conducted in the afternoon, but it was held at the Church of St. Mary Magdalene, as reported by TIME.
Hello! Magazine noted that this will be the first time the public sees the young Cambridge family all together. They'll be joined by members of their family including Queen Elizabeth II, Prince Charles, and the Duchess of Cornwall, and Middleton's family, according to the magazine. According to TIME, Prince Harry and the Duchess of Sussex are scheduled to be in Ireland on July 10 and 11, so it is uncertain right now if they will be attending the service.
Little Louis will be just 11 weeks old when he's christened and this will be the first time he has been seen publicly since he appeared in Middleton's arms on the day of his birth. No doubt he's been receiving lots of love privately from his large extended family.
Christenings are a serious moment for any family as a child is welcomed into the church, and for the royals, they also infuse it with their traditions. Prince Louis will likely wear the same gown that was worn by his brother and sister, as well as 60 other members of the family for their baptisms, according to HuffPost.
This christening will have also have another poignant connection for the family. The Chapel Royal was the location where Princess Diana's casket lay in state following her death, according to HuffPost. That has to bring back some hard memories for Princes William and Prince Harry, but also carries a sweet association. There's no doubt Princess Diana would have been so proud of who her sons have become and welcomed the joy of their growing families.
Prince Louis' godparents will be revealed at the baptism and, surprisingly, Meghan Markle and Prince Harry most likely aren't in the running. A representative for British bookmaker Ladbrokes spoke to People, commenting that Prince William and his wife like to spread the joy around. "As with George and Charlotte, [the parents] chose close and trusted friends and aides, rather than immediate family members, and the odds suggest that will be the same with little Prince Louis," Jessica Bridge told People. The highest bets are on Tiggy Pettifer, a former assistant to both Princes Williams and Prince Harry, and Prince William's private secretary Miguel Head, according to People.
Once the ceremony is done it will be time for the young family to begin enjoying their summer. Prince George and Princess Charlotte will have begun their summer school break, according to Hello! Magazine. The publication added that the family is expected to begin dividing their time between their home in London, their country home in Sandringham, and possibly the home of Middleton's parents in Bucklebury.
Though he's still just a few weeks old, it will be exciting to see even a glimpse of the tiniest royal on the day of his christening. As with every other event surrounding this adorable royal family, the world will be watching.