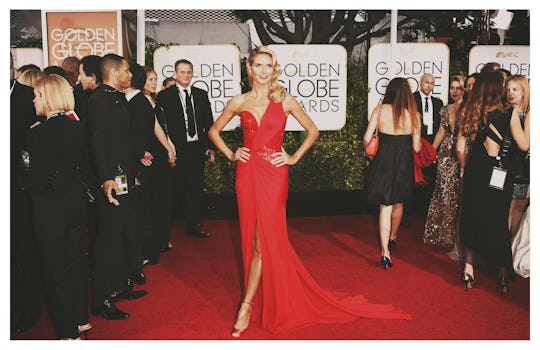 What Time Is The 2016 Golden Globes Red Carpet? There Are A Lot Of Options For Fashion Fans
Yeah, yeah, the 2016 Golden Globes ceremony will come with plenty of celebrity jabs via Ricky Gervais and heart-wrenching speeches from surprise winners, but, c'mon. You're tuning in mostly to get some serious fashion inspo during the red carpet. So you have to know — when does the 2016 Golden Globes red carpet begin?
Luckily for any fashion fan, there are plenty of options to work with. Because not only does NBC boast its own red carpet coverage starting at 7 p.m. ET (and airing live on the West Coast at 4 p.m. PT), but E!, of course, has a slew of plans surrounding the Golden Globes.
So when can you watch the red carpet coverage on E!? That depends on how much time you want to commit to the awards show. The network's Live From The Red Carpet begins at 6 p.m. ET and 3 p.m. PT, and will feature Ryan Seacrest and Giuliana Rancic tag-teaming the stars' arrivals. (And, surely in Rancic's case, inspiring plenty of conversation.) But if that's simply not enough for you, you can begin tuning into live carpet coverage on E! at 4 p.m. ET and 1 p.m. PT, when the network will air Countdown To The Red Carpet. Expect the program to delve into what the stars may be wearing, because, let's face it — you've been trying to predict the same thing too. Especially since we all know nominee/your pretend best friend Jennifer Lawrence will be there.
But, of course, the red carpet is about more than just what each celebrity is wearing, as much as everyone loves to digest the fashion of our favorite stars. Here's hoping Sunday's ceremony will continue to latch onto last year's #AskHerMore movement, which urged commentators and interviewers to dig deeper than the dress, and ask stars — particularly female stars — about their projects. Because there's more to their lives than just a Manicam.
Image: Jason Merritt/Getty