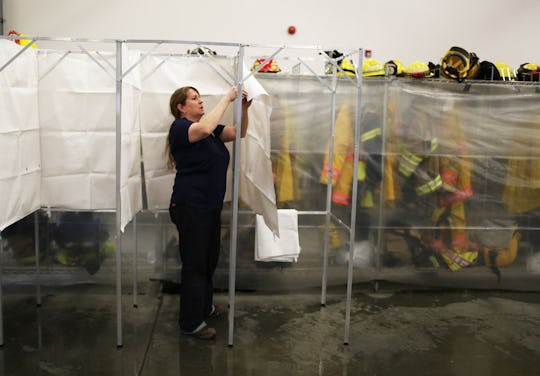 Joe Raedle/Getty Images
What Time Is The New Hampshire Primary? For Voters, It Depends On Where You Live
With Iowa in the rearview mirror, candidates are headed to New Hampshire for the "first-in-the-nation" primary. As the United States watches, Democrats, Republicans, and Independents will all head to the polls to declare their support for one of the remaining 2016 candidates. So what time is the New Hampshire primary? Though polling locations will all open and close at different times, the voting will take place on the same day, Tuesday, Feb. 9.
New Hampshire towns set their own polling times, according to NPR. The majority open at 7 a.m. and close at 7 p.m. Three small towns (with 12, 23, and 41 residents, respectively) have made the news for opening their polls right after midnight.
Though the New Hampshire primary is the first major gauge of voter preferences following Iowa, it doesn't reliably predict the nominee for either party. More than 40% of voters in New Hampshire do not have formal party affiliation, according to a video by the Associated Press; They get to choose whether they want to vote in the Democratic or Republican primary. New Hampshire voters predicted the Democratic nominees in 2000 and 2004 (former Vice President Al Gore and current U.S. Secretary of State John Kerry, respectively), but their support of then-Sen. Hillary Clinton in 2008 did not lead to a successful presidential run for the future Secretary of State. Arizona Sen. John McCain won the New Hampshire primary in 2000 and 2008, but he only got the Republican nomination in the latter year. Former Gov. of Massachusetts Mitt Romney won the primary and the GOP nomination in 2012.
New Hampshire's track record of actually picking the president is a bit worse: According to NPR, the last New Hampshire primary winners to become president were Jimmy Carter (Democrat) and George H.W. Bush (Republican).
It may not be safe to predict who will be president based on who wins New Hampshire, but the nation will still be watching to see how the primary plays out. For Republicans, New Hampshire will play a critical role in determining whether frontrunner Donald Trump continues to build momentum. After his loss in Iowa, Trump still has a "double-digit lead" in The Granite State, according to NBC News. Texas Sen. Ted Cruz and Florida Sen. Marco Rubio are nearly tied in the latest polls, but it's possible that Rubio's poor performance in Saturday night's debate will undermine his ability to galvanize voters.
On the Democratic side, although Vermont Sen. Bernie Sanders seems to be going in with the bigger shot at success, Clinton's ability to connect with women and sway registered Democrats could give her an edge if she's able to harness the power of both groups in time.
Though polling will be going on all day in New Hampshire, the time to tune in is around 7 p.m ET. That's when CNN starts their coverage of the primary, and voters will begin to find out who New Hampshire loves most.