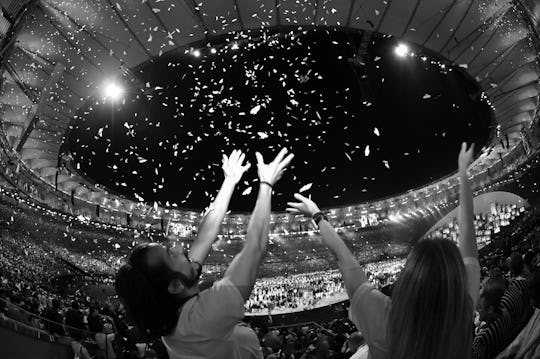 FABRICE COFFRINI/AFP/Getty Images
What Time Is The Olympic Closing Ceremony? It Will Be A Bittersweet Event
Throughout the Olympic games in Rio, viewers all over the world have had to keep the time difference between their location and Brazil in mind. For example, those watching from the U.K. would have to watch around midnight to watch the show "live" or somewhat close to live. Regardless of where you are in the world (unless you're at the closing ceremony itself), there will be at least a one-hour delay. So, what time are the Olympic Closing Ceremony? It depends on where you are.
In Brazil, at the Maracana Stadium, the ceremony will actually start at 7 p.m. local time. But, there will be a one hour delay in the states because NBC will be showing a roundup of all the best Olympic moments. This means that the ceremony will actually commence a bit later — probably around 8 p.m. Eastern Time or later.
The closing ceremony, not unlike the opening ceremony, will probably run about three hours, with four hours allotted to networks for broadcast time.
While the details of the event are being kept pretty hush-hush, there's one appearance that Brazil, and the rest of the world, are hoping for: Pelé, now 75 years old and perhaps one of the most famous soccer players of all time, was originally slated to be part of the opening ceremony, but was unable to participate due to an injury.
In a tweet he posted after the announcement, he said he was focused on getting better so that he could come to the closing ceremony.
By the end, the 2016 Olympics in Rio will have lasted a total of 16 days, included 28 different sports and over 300 separate events. This year's Olympic games were the first to be entirely live streamed, with online streaming services actually surpassing viewership on major television networks. While this was pretty neat for people who wanted to watch it on demand, it wasn't so great for the networks, which rely on Neilson ratings to determine their audience size.
While the details of the ceremony are being kept under wraps, if you want to see for yourself, tickets are still available for purchase, starting at around $62 and going as high as $1,000 for grandstand seating.
While not much is known about what will be included in the ceremony, there's one tradition to be counted on: before the torch is extinguished, it will be passed to the host of the next Olympic games in 2020 — Tokyo.
Correction: This article previously stated that the closing ceremony would take place on Friday night in Brazil, but that it wasn't being broadcasted in the U.S. until Sunday night. The information has been corrected and Romper regrets the error.