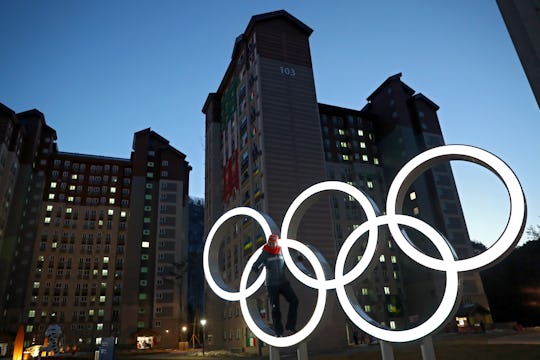 Alexander Hassenstein/Getty Images Sport/Getty Images
Be Sure To Set Your Alarms For The Winter Olympics Opening Ceremony
Are you as excited for the Winter Olympics as I am? OK, I'll be honest. I'm mostly looking forward to the figure skating and the opening ceremony, which is always tons of fun. So what time is the opening ceremony on in the U.S.? The 2018 Winter Olympics technically begins on Feb. 8 since that's when a few events kick off, but the opening ceremony will take place on the Feb. 9, with plenty of pomp and circumstance and hopefully a K-pop performance.
Officially, the opening ceremony will happen on Friday, Feb. 9 at 8 p.m. local time, which translates to 6 a.m. ET in the United States. So if you want to watch the show live, you'll have to wake up bright and early on Friday morning to catch the action firsthand. The show will live stream on NBC's Olympics site, and on the NBC sports app, which you can watch using any streaming device like Roku, Apple TV, or Amazon Fire. If you're not really an early bird, and want to watch the ceremony at a reasonable hour, well, you're in luck. NBC is also broadcasting a "fully produced" version of the opening ceremony at 8 p.m. ET, which will be hosted by both Katie Couric and Mike Tirico.
NBC will air the ceremony a second time after the first broadcast, starting at 12:30 a.m. Saturday morning, so you can even make the show an all-night event, if you just can't get enough of world peace and international cooperation. I probably won't be doing that, but I'm certainly not about to judge anybody who wants to. I have a feeling this is going to be a really good show, though obviously I don't have any specifics for the event quite yet. But the Olympic opening ceremony is generally a good time, filled with over-the-top performances and general good cheer.
It is widely speculated that a K-pop band will perform. And die hard fans are keeping their fingers crossed for an appearance by BTS, the seven-part boy band who have gained international recognition and a legion of obsessive fans the world over (just check out the screams from the crowd at their appearance on Ellen). It is said that the opening ceremony will have a peace theme, which is sorely needed considering the world atmosphere, especially surrounding international tensions with North Korea. Speaking of North Korea, North Korean athletes will be marching in the ceremony under the Korean unification flag, which is rarely seen. The action is being viewed as a way to improve relations between North and South Korea, which could obviously be a very huge deal.
If you're feeling a little disappointed that you don't have tens of thousands of dollars to see the action firsthand, I wouldn't be too upset. Apparently the Olympics in PyeongChang are set to be the coldest on record, with temperatures hovering around seven degrees Fahrenheit with wind chill. And the Olympic stadium, which seats 35,000 people, will not have a roof or any central heating facilities. Spectators will be provided with heating pads, blankets, and raincoats with portable gas heaters in between rows. They will also have the option of purchasing hot food and drinks in the stadium. Fingers crossed this is enough to stave off hypothermia, which has been a problem in the region before.
As for the athletes, well at least the American team will have the advantage of heated uniform jackets, designed by Ralph Lauren. Not everyone appears to be a fan of the fringed gloves, but I kind of like them? In any case, it's sure to be a great show and I cannot wait.
Check out Romper's new video series, Romper's Doula Diaries:
Watch full episodes of Romper's Doula Diaries on Facebook Watch.