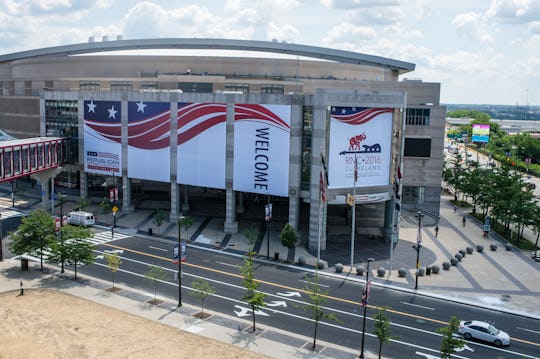 Angelo Merendino/Getty Images News/Getty Images
What Time Is The Republican National Convention? The Event Lasts Three Days
Later this month, Republicans will name their party's 2016 Presidential nominee at the RNC Convention in Cleveland, Ohio. And while many believe the convention will be uneventful — as business mogul Donald Trump is the party's only candidate — during this historical election season, many will still want to tune in. But what time is the Republican National Convention? Well, it's longer than you may think.
The three-day event is scheduled to begin at 1 p.m. on Monday, July 18, and will end around 7:30 p.m. on Thursday, July 21, when the now-officially named 2016 Republican Presidential nominee delivers his closing statement. Key aspects of the convention will be covered nightly by networks like ABC and NBC — according to TV Guide, both stations will devote an hour of prime time news coverage to the event each evening — and morning recaps will be done by shows like Good Morning America, which will be broadcasting live from Cleveland Monday through Thursday. However, for those looking for more comprehensive coverage, CNN, C-SPAN, and Fox have stated their convention programming will be 24-7.
But what exactly will be going on? Well, lots of "official business," numerous speeches, and important conversations; every day of the convention, Republicans will consider how they can help ensure their party's nominee is the strongest 2016 Presidential nominee. As for who will be speaking at the 2016 RNC, the list is long, politically impressive — including the likes of House Speaker Paul Ryan, House Majority Leader Kevin McCarthy, and Kentucky Sen. Mitch McConnell — and a real family affair, as Melanie, Eric, and Ivanka Trump are slated to take the stage.
Other speakers include Arkansas Sen. Tom Cotton, Wisconsin Gov. Scott Walker, former Arkansas Gov. Mike Huckabee, Arkansas Gov. Asa Hutchinson, basketball coach Bobby Knight, Michigan Attorney General Bill Schuette, Evangelical pastor Mark Burns, and former New York City Mayor Rudy Giuliani.
Texas Sen. Ted Cruz will also be speaking at the Republican National Convention. In fact, the former Presidential hopeful announce late last week that, after meeting with Trump, he agreed to speak on his behalf, according to CNN:
We had a positive and productive meeting this morning with Donald Trump. Donald asked me to speak at the Republican convention and I told him I'd be happy to do so.
Next week is the party's 41st national convention, and according to The Politics And Election Portal, it is the first time the Republican party will nominate a non-politician Presidential nominee since since Dwight D. Eisenhower (in 1952).