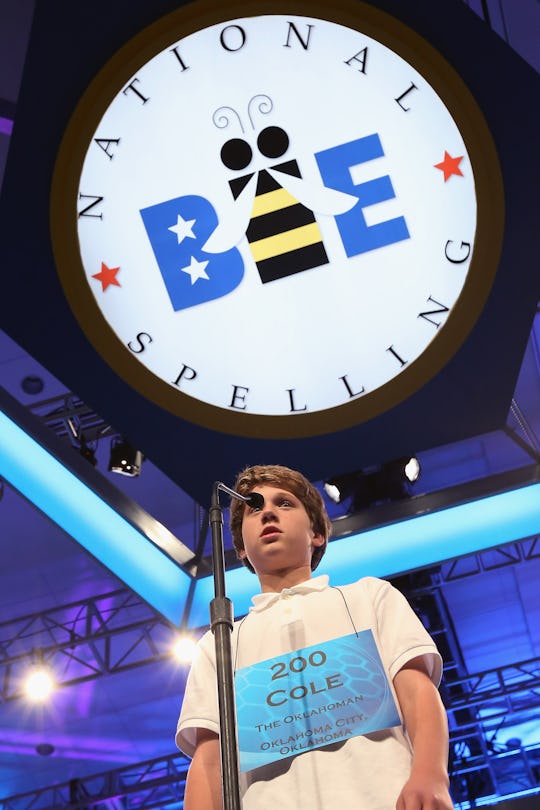 Chip Somodevilla/Getty Images News/Getty Images
What Time Is The Scripps Spelling Bee Final? You Don't Want To Miss This Competition
If your memories of spelling bees past involve clammy-hand panic or stultifying boredom in your elementary school auditorium, you may wonder why anyone would want to watch a spelling bee on television. But if you tune into the Scripps National Spelling Bee, odds are you'll understand the fascination pretty quickly. The bee, which began on Tuesday, with finals on Thursday, can feature roller coaster tension to rival Game of Thrones. So make sure you know what time the Scripps Spelling Bee will appear on your TV, and get ready to be R-I-V-E-T-E-D.
Get ready, also, to lose multiple hours of multiple days to watching young spellers prove their mettle. With nearly 300 contestants in eighth grade and below who have all worked very hard to get to the bee, of course it's going to take some time to narrow the field down to one champion. (Or two! The past two years, the contest has ended with a tie!) The Scripps Spelling Bee will air on ESPN, which underlines the fact that it isn't merely an academic contest. It's basically a full-on competitive sport.
The network streams preliminaries on ESPN3 on Wednesday from 8 a.m. to 5 p.m. ET. The network will begin showing the finals on Thursday at 10 a.m. ET on ESPN2, with the continued finals moving over to regular old ESPN at 8 p.m. ET.
The bright young competitors gracing your television screens have gone through multiple rounds at the local level before getting to travel to the finals in Washington, D.C. A lot of them have been to nationals before. Still, that doesn't make the competition any less pressure-filled, especially since over a million viewers have been known to tune in. Also, many contestants are starting to go through puberty, a time when it's horrifying enough to have people look at you when you're just walking down the street, let alone when you're trying to spell "vivisepulture" on national television.
This year's competition features a few spellers in particular worth watching. The youngest competitor in this year's Scripps Spelling Bee, Akash Vukoti, is only 6 years old. Since qualifying for nationals, Vukoti has appeared on both Steve Harvey's daytime talk show and "Little Big Shots." While demonstrating his prowess in a contest against Harvey, Vukoti correctly spelled the word "pneumonoultramicroscopicsilicovolcanokoniosis." I repeat, he is 6. So what have you done with your life lately?
Another one to watch is 11-year-old competitor Neil Maes, who was born severely hearing-impaired. Thanks to cochlear implants and other advances in hearing technology, he was able to, according to an article about him in The Washington Post, hear the well-wishes of his classmates as he headed off to the bee, where:
[T]he word reader at the bee will use an FM system that sends the word over a small radio frequency to a receiver located on the back of Neil's head. That is then transmitted to a cochlear implant — a tiny receiver — that stimulates the auditory nerve and enables hearing.
For all the competitors, the Scripps National Spelling Bee represents the chance to achieve a dream after months of hard work. And that makes for some excellent television.