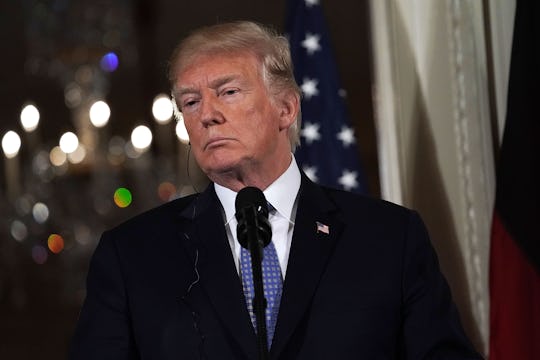 Alex Wong/Getty Images News/Getty Images
Here's When & Where You Can Watch The White House Correspondents' Dinner
As you've probably heard, the annual White House Correspondents' Dinner (WHCD) will be held on Saturday, April 28. For those who aren't incredibly familiar with what goes down at the WHCD, it's a night when news organizations, celebrities, politicians, and other special guests come together to honor a number of journalists and journalism students — and of course, for some light-hearted roasting. Typically, the event includes some jokes from the president, followed by a real comedian who doesn't hold back with brutal political jokes. And all of this is broadcast live on C-Span. But the real question is this: What time is the White House Correspondents' Dinner? You'll definitely want to tune in for the roast.
Particularly for those of us who have kicked cable TV to the curb (*cough* me *cough*), tuning into a live event can sometimes be tricky. But never fear, lovers of political comedy! In order to catch the WHCD, all you really need is a device with internet access. That's because C-Span is going to be streaming the event on its website starting at 9:30 p.m. (ET) on Saturday, in addition to the actual C-Span TV channel. YouTube will be live streaming the WHCD as well, and that will begin at 8 p.m. (ET.)
So what can we expect from this year's event? Like last year, Trump will be skipping the White House Correspondents' Dinner on Saturday, Politico reported. For the record, in 2017 Trump became the first president in 36 years not to attend the WHCD, Vox reported. Instead, he held a rally at the same time in Harrisburg, Pennsylvania, during which he mocked the media, NPR reported. He reportedly told the crowd:
A large group of Hollywood actors and Washington media are consoling each other in a hotel ballroom in our nation's capital right now.
It looks like President Trump has similar plans this year. The Trump campaign announced last week that the POTUS will hold a campaign rally in Washington Township, Michigan, starting at 7 p.m. (ET) Saturday. As People reported, in a news release Trump campaign chief operating officer Michael Glassner said:
While the fake news media will be celebrating themselves with the denizens of Washington society in the swamp that evening, President Trump will be in a completely different Washington, celebrating our national economic revival with patriotic Americans.
With that said, a number of White House staffers are expected to be in attendance Saturday evening. White House Press Secretary Sarah Huckabee Sanders and counselor to the president, Kellyanne Conway, will both be at the WHCD, The Hollywood Reporter reported.
Despite multiple invitations extended in her direction, Stormy Daniels will not be attending the White House Correspondents' Dinner, People reported.
However, the primary entertainer this year at the WHCD will be comedienne Michelle Wolf, who is a former correspondent for The Daily Show with Trevor Noah, GQ reported. If you're curious about what to expect from Wolf, I implore you to take a look at her performance, below. Because after hearing her thoughts on men, I simply can't wait to watch her roast Trump tomorrow.
Back in February, Wolf spoke about the fact that Donald Trump is far more difficult for comedy than most people might think, Variety reported.
I think Trump is terrible for comedy. A lot of people say he is great. He's not. You can't joke a joke. It has made some comedy less about jokes and more just about saying what people want to hear. There is only so many times you can say, 'Trump tweeted something that was bad.' That is not a joke to me. It is not exciting anymore. It almost has become hacky at this point. You are need to creatively come up with a new take.
Okay, it's settled. I'm setting an alarm on my phone from 9:30 p.m. tomorrow just so I can tune into the WHCD. I must see Michelle Wolf in action because she is freaking hilarious — and I have a feeling she will rise to the occasion of roasting Trump like a champ.