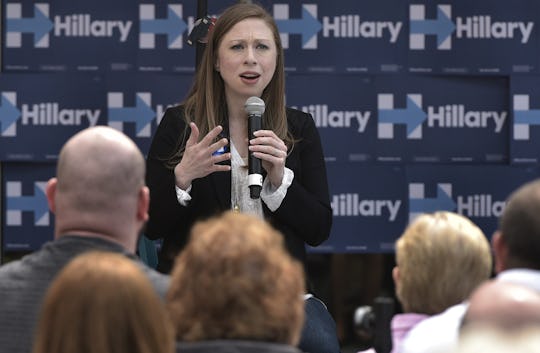 MANDEL NGAN/AFP/Getty Images
What Time Will Chelsea Clinton Speak At The DNC? She Will Speak On Thursday Night
Chelsea Clinton is no stranger to the Democratic National Convention. Her father, former President Bill Clinton, accepted the party's official nomination in 1992 and again, four years later, in 1996 when Chelsea was just a teenager. Now, as an adult, Clinton will be returning to the DNC for her mother, former Secretary of State Hillary Clinton, when she accepts the party's nomination for President of the United States. Chelsea Clinton will be among the list of headliners scheduled to speak at the DNC this upcoming week. So naturally, some are wondering what time will Chelsea Clinton speak at the DNC?
Unfortunately, in the schedule released on the Democratic National Convention's website, no times have been announced for any of the speeches that will be given during the four nights of the convention. What is known is that the convention start at 4 p.m. and Chelsea Clinton will speak on Thursday night to introduce her mother, right before Hillary gives the big (and last) speech of the night.
Chelsea Clinton's speech could do big things for her mother. At the Republican National Convention, people could not stop talking about Donald Trump's children and how their speeches during the convention helped humanize their father and "save the convention," according to Newsweek. An incredible speech by Chelsea could do the same for her mother and the DNC. But no one knows what time that will be aired.
So while people can't set an alarm to remind them of a specific time to watch Chelsea Clinton's speech, it does mean that they will have to tune in when the convention coverage starts for what is sure to be a very special night. Thursday night will be a history maker, as Hillary Clinton will give her a speech accepting the nomination as the first woman to capture a major party nomination for President of the United States.
Luckily, it won't be hard to catch Chelsea and Hillary's speeches on Thursday night. Democratic National Convention coverage — especially the important speeches like Chelsea and Hillary's — will be airing on CNN, MSNBC, C-SPAN, ABC, NBC, CBS, and more. Don't have cable? Not a problem. Twitter, YouTube, and Facebook are all offering live coverage so anyone can stream the speeches from their devices anywhere.
Thursday night's theme for the convention will be "stronger together" which means that both Clintons will be sure to touch on this subject. For a family that has been involved in politics for so many years now, "stronger together" means so many things for Hillary and Chelsea. While I can't be certain, I'm sure both Hillary and Chelsea will touch on this topic of strength during their speeches.
Chelsea Clinton's speech on Thursday night will sure talked about for days to come. So get your devices ready or pick your favorite TV news network to watch both female Clintons speak on Thursday night during primetime.