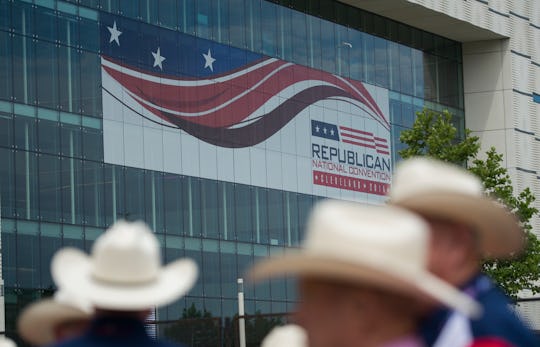 ANDREW CABALLERO-REYNOLDS/AFP/Getty Images
What Time Will Donald Trump Speak At The RNC? The Convention Program Has Been Announced
The big day has arrived: the Republican National Convention kicked off in Cleveland, Ohio, today, one year after presumptive Republican presidential nominee Donald Trump announced his candidacy. The four-day long event will see Trump officially named as the party's presidential candidate ahead of the general election this November, and will feature a number of speakers talking about all sorts of topics related to this year's theme, "Make America Great Again" (what else?). Trump, of course, will also address the crowd, likely alongside his newly-crowned running mate, Indiana Gov. Mike Pence. What time will Donald Trump speak at the RNC? He'll speak last on Thursday, according to the RNC Convention website, no doubt eager to leave a lasting impression on the pumped-up Republicans rooting for him to take the White House this fall.
Releasing an updated program for the convention Sunday, Jeff Larson, CEO of the 2016 Republican National Convention, said the "unconventional lineup of speakers" at this year's convention would include "veterans, political outsiders, [and] faith leaders" as well as a number of members of Trump's inner circle (his wife, Melania, and four of his children are slated to speak). And it certainly does seem unconventional: according to NPR, speakers at the 2012 RNC were mostly politicians, but Trump's RNC lineup is much more diverse, including a retired U.S. Navy SEAL, the mother of an American killed in Benghazi, immigration reform advocates, the president of Ultimate Fighting Championship, the founder of a Bronx-based waterproofing company, an LPGA golfer, the manager of Trump Winery, an actor, a soap opera actress, a reality TV personality, and a retired astronaut. It will also, according to NPR, include "precisely zero former Republican presidential candidates."
Each day of the convention focuses on a different variation of Trump's "Make America Great Again" tagline. On Monday, the theme will be "Make America Safe Again," and will focus on topics like Benghazi and the alleged failures of presumptive Democratic presidential nominee Hillary Clinton and the Obama Administration, undocumented immigration, national security, and foreign policy (no word yet though on whether he'll be further discussing building a wall). Tuesday will focus on the economy and job growth ("Make America Work Again"), while Wednesday's theme, "Make America First Again," will reportedly discuss how, "under a Trump administration, America will once again be a beacon of progress and opportunity."
The primetime program of the final evening of the convention will begin at 7:30 p.m. Eastern Time, under the theme, "Make America One Again." According to the 2016 RNC website, this will focus on the ways that Trump will,
move our country beyond the divisive identity politics that have been holding us back by restoring leadership, building trust, and focusing on our shared love of country and our common goal of making America great again.
Thursday evening's speaker lineup will begin with a speech by motivational speaker Brock Mealer, and will wrap up with words from Trump, who will be following a speech by his daughter, Ivanka Trump.
Of course, like with Trump himself, the convention has brought with it plenty of controversy and criticism, according to The Telegraph. Many have denounced Trump's decision to spend the first evening focusing on Clinton and the Benghazi attack in 2012 as "tasteless," and, unsurprisingly, mass protests began yesterday outside the RNC venue, according to Cleveland.com, from groups including Black Lives Matter, women's peace organization Code Pink, and a number of other activists and demonstrators who argue that Trump's policies are racist, sexist, and xenophobic. And given the at times violent nature of encounters between Trump supporters and protesters, the city is not taking any chances. According to The New York Times,
Cleveland is bringing in roughly 2,500 law enforcement officers from as far away as California, Florida and Texas to bolster its convention-dedicated force of about 500.
One thing that won't be happening during the 2016 RNC though? The so-called Never Trump coup that had once been suggested as a way of ousting Trump from the party's top seat. Led by Colorado delegate Kendall Unruh, the goal of the movement was to change convention rules that would unbind GOP delegates from the results of their state primaries and caucuses, allowing them to vote freely for whomever they wanted. But according to Fox News, an RNC committee rejected the plan in a vote last Thursday.
Critics of the Never Trump movement argued that allowing delegates to vote against primary and caucus results would be entirely undemocratic, as Trump won overwhelmingly throughout primary season. That means his speech will definitely happen on Thursday night.