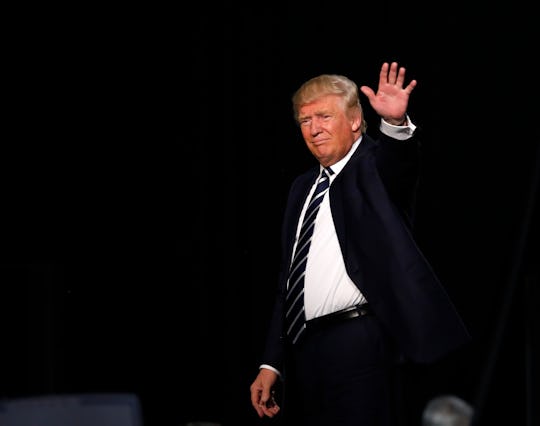 JEFF KOWALSKY/AFP/Getty Images
What Time Will Donald Trump Speak On Election Night? It'll Likely Be Late
Be it a concession or a victory speech, both presidential candidates have their own well-planned protocol for their partying and goings-on and, post-election. Democratic presidential nominee Hillary Clinton will speak at the Javits Convention Center in New York City and GOP nominee Donald Trump will give his address at the Hilton Hotel in the very same city. But what time will Donald Trump speak on election night? The race should be called at around 11:00 p.m. EST, so he'll likely give his address some time soon after that.
Notably not held at Trump Tower (likely because it's a "privately owned public space"), Trump has only invited "friends and supporters of the Trump-Pence campaign" to his party in Midtown. Trump's election night event will begin at 6:30 p.m. and he'll wait to speak until the final results are announced. Though this is definitely the prepared plan, Trump's repeated refusal to concede indicates that he might not make the most gracious concession speech, should he lose the presidency to Clinton. Depending on the margin between the actual results, he could easily refuse to speak altogether.
Trump tweeted that he'll be watching the reveal of electoral votes away from the majority of his partygoers. In fact, he'll be a couple of blocks over from where his event is taking place, opting to keep things low-key, or as low-key as they can get in his ever-so-gaudy Trump Tower.
"For the first time in modern memory, both major party candidates will monitor the results here in New York and will have election night parties in midtown Manhattan,'' noted New York Police Commissioner James O'Neill. Just one mile away from Trump, Clinton will be celebrating (or mourning) at her own event. New York Police officials have been preparing for the remarkable occasion that's brought both major party presidential candidates so incredibly close to one another, as it does bring some security risks to the situation.
Though a concession speech is by no means legally required, it does add some decorum and indicates a level of respect for the democratic process. If Trump does lose, his refusal to acknowledge the legitimacy of said loss is a purely political statement with no actual influence on the election or the results at hand. When he does make his way from Trump Tower to the Hilton Hotel, be it in a victorious nature or otherwise, the speech that he gives will be remembered, either as the end of a movement cut short or the beginning of a much more extensive era.