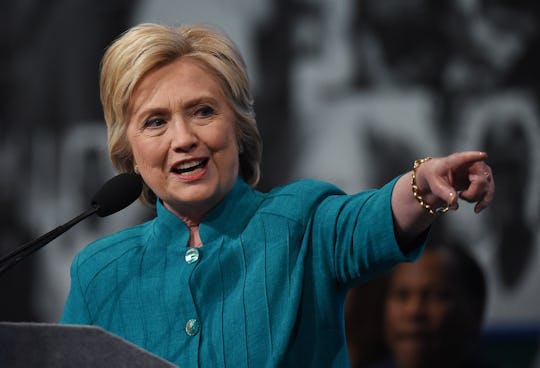 Ethan Miller/Getty Images News/Getty Images
What Time Will Hillary Clinton Speak At The DNC? She'll Step Up To The Podium On Thursday
This Democratic National Convention is set to be a historic occasion when the party formally elects their first female nominee for president. Vermont Sen. Bernie Sanders acknowledged earlier in July that former Secretary of State Hillary Clinton had enough delegates to clinch the nomination. Just as the Republican National Convention attempted to make a convincing argument for a Trump presidency, the DNC will be packed with speakers ready to see a woman in the White House; Clinton's speech will be the grand finale. What time will Hillary Clinton speak at the DNC? Though the Democratic National Convention Committee (DNCC) did not release the exact time Clinton will step onstage, the Los Angeles Times reported that she will speak Thursday night. Judging by the timing of Donald Trump's speech at the RNC, it's likely she won't speak until 9 p.m. Eastern Time (or a bit later).
The 2016 Democratic National Convention runs from Monday through Thursday in Philadelphia. An article on the DNC Medium channel indicated that Clinton will speak Thursday night along with her daughter, Chelsea Clinton. The proceedings will begin at 4:30 p.m., though the two Clintons will be the last to speak. Thursday's theme is "Stronger Together"; according to the Medium article, Clinton "will speak about her vision for our country — her belief that we are stronger together and that America is at its best when we work together to solve our problems."
DNC attendees can expect four nights of strong headliners. First Lady Michelle Obama is scheduled to speak Monday night along with Vermont Sen. Bernie Sanders and DREAMer Astrid Silva; based on the Medium article, she's expected to talk about the importance of immigration policy that allows families to stay together. The theme is "United Together," focusing on creating economic opportunity for all. On Tuesday, former President Bill Clinton will speak, as will the Mothers of the Movement. According to Fusion, the Mothers of the Movement are all women who lost children in cases that prompted the creation and continuation of the Black Lives Matter movement. The theme for Tuesday is "A Lifetime of Fighting for Children and Families," Medium reported. The roll call vote will also take place that night. On Wednesday, the theme is "Working Together." Both President Barack Obama and Vice President Joe Biden are set to speak.
The DNCC released the names of DNC speakers on its website, and it published a list of additional DNC speakers on July 21. Though plenty of heavy hitters in the Democratic Party will get time in the spotlight, it's likely Clinton's speech will be the most anticipated.