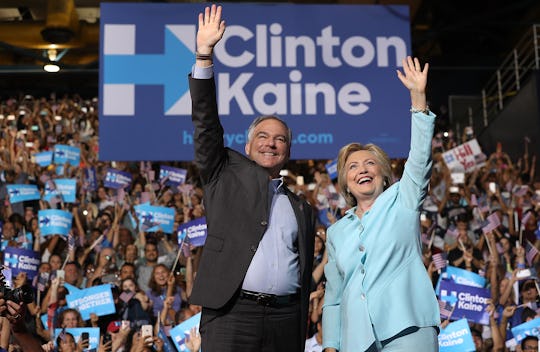 Justin Sullivan/Getty Images News/Getty Images
What Time Will Tim Kaine Speak At The DNC? He & Clinton Hope To Unite Voters
The Republican National Convention has come and gone, and now, it's the Democrats' turn: Monday marks the first day of the 2016 Democratic National Convention in Philadelphia, Pennsylvania, a four-day long event that will see presumptive Democratic presidential nominee Hillary Clinton officially recognized as the party's presidential candidate. But Clinton won't be alone — her newly-announced running mate, Virginia Sen. Tim Kaine, will also make an appearance (and, almost certainly, a speech), according to Fortune. What time will Tim Kaine speak at the DNC? The official DNC website doesn't yet have Kaine on the schedule of speakers, but it's expected he might be added to the Wednesday-night lineup, where President Barack Obama and Vice President Joe Biden are already slated to give speeches.
Although the DNC is expected to be more of a traditional convention than the RNC was under Republican presidential candidate Donald Trump, there will still be a number of potentially headline-worthy things to look out for. Though the line-up of speakers is much more politician-heavy than Trump's was, a number of them are big names that will command big audiences — in addition to the POTUS and VP, Vermont Sen. Bernie Sanders, First Lady Michelle Obama, former president Bill Clinton, and Massachusetts Sen. Elizabeth Warren will also be expected to speak.
In addition to politicians, activists and other important voices, like Gwen Carr (the mother of Eric Garner), Sybrina Fulton (the mother of Trayvon Martin), Lesley McSpadden (the mother of Michael Brown), Geneva Reed-Veal (mother of Sandra Bland), and Erica Smegielski (daughter of Sandy Hook Elementary School principal Dawn Hochsprung, who was killed in the 2012 shooting) will be some of those speaking, according to Vox. And the DNC will also host some celebrities, too: Katy Perry, Demi Lovato, Lena Dunham, Chloe Grace Moretz, Eva Longoria will make an appearance, to name a few.
As with the RNC, each day of the convention will follow a pre-determined theme, designed to reflect the Democratic platform that will move ahead under Clinton's leadership. The four themes — "United Together," "A Lifetime of Fighting for Children and Families," "Working Together," and "Stronger Together" — are expected to encompass a number of platform issues outlined on the DNC's website, such as an increased minimum wage and protecting workers' rights; creating "good-paying" jobs; ending systemic racism; guaranteeing rights for women, LGBTQ Americans, and people with disabilities; immigration and criminal justice reform; providing affordable education; and securing universal health care, among others.
So what might we be able to expect from Kaine when he takes the stage? It's unclear as of yet what he might choose to focus on, though some have argued that, given his stance as a moderate, it might be wise for him to try to appeal a bit more to left-leaning Sanders supporters — many of whom aren't exactly thrilled with Clinton's VP pick. In fact, Republican presidential candidate Donald Trump took advantage of the Democrats' division following Kaine's nomination, tweeting a series of messages outlining the ways Clinton's choice of Kaine as her running mate is an insult to Sanders supporters:
Despite not necessarily being a slam-dunk choice though, Kaine has earned praise for his positions on a number of issues, including reproductive rights (despite, as a Catholic, being personally anti-abortion) and civil rights, according to TIME, as well as for being the first senator to give a speech entirely in Spanish — Kaine lived in Honduras for a year in 1980 — to advocate for an immigration bill, according to NPR.
The DNC of course, is also not without its own fair share of protests and scandals, particularly in light of DNC Chair Debbie Wasserman Schultz's resignation following a Wikileaks release that revealed that the Democratic National Committee allegedly swayed the primaries in Clinton's favor, according to The New York Times. And it will no doubt be interesting to see how it all plays out over the next four days, as the Democrats take the national spotlight.