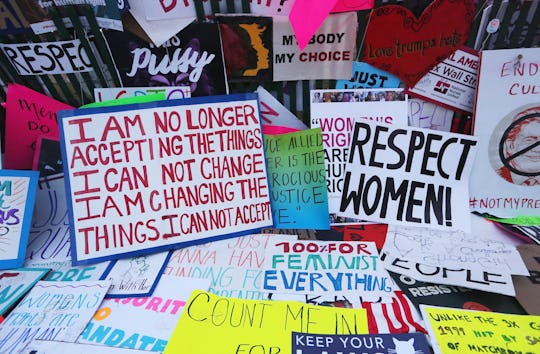 Mario Tama/Getty Images News/Getty Images
Can't Miss Work For The Women's Strike? No Worries
Tuesday March 8 is International Women's Day and this year, many will be celebrating the occasion by taking a stand against gender inequality. The Women's March has organized a protest called A Day Without A Woman, which the organizers describe as "a one-day demonstration of economic solidarity." They're asking women to take the day off from both paid and unpaid labor as a protest to shine a spotlight on "the enormous value that women of all backgrounds add to our socio-economic system." This is definitely a great message, however, some women can't participate due to their economic circumstances. Thankfully, there are still ways to get involved in the women's strike even if you can't take an unpaid day off work.
The goal of the general women's strike is to show others what the world would like without women in it. This is obviously an important message, but taking off from work just isn't realistic for many women. The organizers behind the strike understand that being able to take an unpaid day off from work is a privilege, so they made sure to make their plan as inclusive as possible and listed a few ways to take part in the strike without actually taking off from work.
"We recognize that some of the 82% of women who become moms, particularly single mothers, may not have the option of refusing to engage in paid work or unpaid child care on March 8th," the organizers explained on the Women's March website. "Many mothers have always worked and in our modern labor force, almost half of all households are women-lead, yet motherhood remains the number one predictor of poverty and a woman's earning potential is diminished further with each child. We strike for them."
The organizers added,
Many women in our most vulnerable communities will not have the ability to join the strike, due to economic insecurity. We strike for them. Many others work jobs that provide essential services, including reproductive health services, and taking off work would come at a great social cost. We recognize the value of their contribution.
If you're unable to take off from work, the organizers recommend avoiding shopping for the day on March 8. Small businesses, as well as businesses run by women and minorities, are considered an exception. Another way they suggest participating if you have to head in to work is to wear read in solidarity with the strike. This will show that you support the strike's efforts, even though you don't have the luxury of being able to take the day off. According to the Women's March Instagram account, organizers chose the color red for a few important reasons. They believe red represents "revolutionary love and sacrifice," as well as "pioneering spirit, leadership, determination, and determination."
Refinery 29 also has a few suggestions for those who want to participate on Tuesday. In addition to wearing red and avoiding making purchases if at all possible, a great way to support the spirit of the strike is to contact your government representatives to talk about issues that are important to you over a break or after work. Whether it's reproductive rights or the increase of deportations under the Trump administration, March 8 is a great day to have your voice heard. You can also show support by sharing information about the strike on your various social media platforms.
Another amazing way to get involved is to donate to an organization that supports women's rights. Whether it's Planned Parenthood, the ACLU, or NARAL, there are plenty of worthy places to which you can donate on International Women's Day.
So, even if you can't take off of work for the strike, there's no need to worry. You can still be super involved in help spreading the vital message at the heart of this movement.