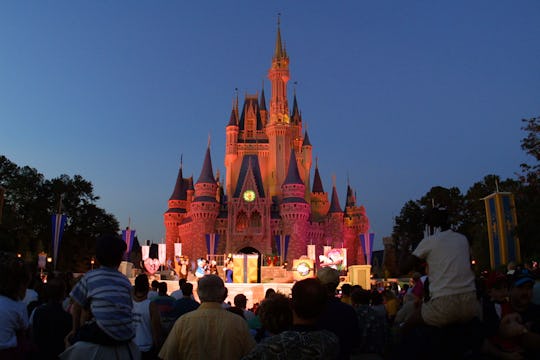 Joe Raedle/Getty Images News/Getty Images
Here's What To Do If Hurricane Irma Crashes Your Kids' Disney Trip
After ripping through the Caribbean on Wednesday, the biggest Atlantic storm in recorded history is expected to reach Florida over the weekend, leaving panicked tourists to wonder what to do if you have kids at Disney World during Hurricane Irma. Currently, "Walt Disney World Resort is operating under normal condition and continues to monitor the path of Hurricane Irma," according to the park's site, and guests with concerns about the storm are encouraged to live chat with its staff online, or call (407)-939-5277 with any questions. If the National Hurricane Center issues a warning for the Orlando area within 7 days of a guest's scheduled arrival date, Disney will change or cancel most reservations without a fee, but what if you're already there when the the storm strikes?
If you know anything about Disney World, you know that it's a well-oiled machine — just try finding a mosquito or mouse within the grounds, I dare you — so it should come as no surprise that it has its hurricane preparedness game down cold. The park has only had to close four times for hurricanes, including last year during Hurricane Matthew. Guests were briefly confined to their hotel rooms, and the resort reportedly sent costumed characters to cheer up disappointed little ones, according to Utah's KUTV.
Disney World was the first amusement park to earn a NOAA StormReady community designation, thanks in part to its emergency operations center and regular training drills. Unofficial Disney World blogs (trust me, there are a lot) report that the park designates a skeleton crew to secure the rides before a hurricane, and guests staying at the Fort Wilderness Resort & Campground are evacuated to on-site hotels while their RVs are relocated and surrounded by Disney buses for protection. And yes, guests do receive partial refunds for the park passes they can't use during the storm, according to the Orlando Sentinel.
A Disney World visitor who stayed during Hurricane Matthew told the Wilkes-Barre Times Leader that every guest room received a flashlight in case of a power outage, and boxed lunches were available for a fee (and a long wait in line). If you'd rather kick back and watch free movies than spend $13 for a ham sandwich, consider placing an order with Garden Grocer or Orlando Grocery Express ahead of the storm, and they'll deliver right to your room. Non-perishables like granola bars, soup, and peanut butter and jelly are all good ideas, but don't worry, they also carry alcohol.
As far as basic hurricane precautions go, you'll want to fill your bathtub, sink, and any bottles you have on hand with clean drinking water (aim for at least three gallons per person). If your room has a refrigerator, turn it down and avoid opening it in order to keep it cold as long for as possible if the power goes out. And be sure you have enough flashlights and extra batteries for everyone, and charge those phones, tablets, and portable power packs. Don't go outside or use the plumbing unless the hotel staff says it's safe, and please be patient with them. Just like you, they're stuck at a hotel during a hurricane, but they also have to work.
If your kids are nervous about the hurricane, don't try to change the subject or tell them everything will be OK. Their feelings should be validated, according to Tampa's ABC Action News, and you can calm their fears by going over the steps you're taking to stay safe. You probably didn't have the room (or the inclination) to pack much in the way of entertainment for your trip, but a notebook, some crayons, and a deck of cards can keep the family busy for hours. When you're sick of coloring and Go Fish, you can create an impromptu game of Memory with the cards, or draw Disney characters on slips of paper for a no-reading-required game of charades. Just because there's a hurricane doesn't mean your vacation can't be fun (this is assuming you're staying safe), and think of the stories you'll have for years to come.