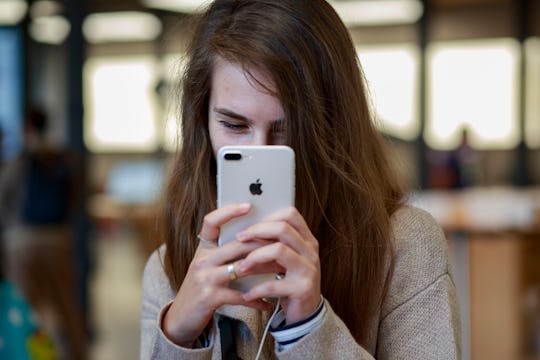 Gonzalo Arroyo Moreno/Getty Images News/Getty Images
What To Do If You See Alleged Discrimination On A Flight
Early Wednesday morning, YouTube star Adam Saleh posted a series of disturbing tweets about his experience on a Delta Air Lines flight from London to New York. The 23-year-old Muslim and YouTube "prankster" — with more than 3.6 million combined subscribers — alleges he was kicked off Wednesday's Delta flight solely for speaking in Arabic to his mother on the phone. With brief video clips, Saleh can be seen trying to reason with both fellow passengers and airline crew members as he is escorted from the plane. For Delta, this isn't the airline's first such run-in with allegations of discrimination, but it begs the question: What can you do if you see alleged discrimination on a flight? It's a complicated situation for all involved — and with a Trump presidency looming upon us, could become a more common event.
Update: On Wednesday evening, Delta spokespersons issued a second statement to further clarify the details surrounding the incident: "Upon landing the crew was debriefed and multiple passenger statements collected. Based on the information collected to date, it appears the customers who were removed sought to disrupt the cabin with provocative behavior, including shouting. This type of conduct is not welcome on any Delta flight. While one, according to media reports, is a known prankster who was video recorded and encouraged by his traveling companion, what is paramount to Delta is the safety and comfort of our passengers and employees. It is clear these individuals sought to violate that priority."
First, some context: Delta Air Lines released the following statement in the wake of Saleh's social media posts:
We take all allegations of discrimination seriously and we are gathering all of the facts before jumping to any conclusion. Our culture requires treating everyone with respect. Furthermore, Delta people are trained to and frequently handle conflicts between passengers.
Maintaining a safe, comfortable and orderly onboard environment is paramount for every flight and requires the cooperation of all of our customers in conjunction with adherence to directions from our crew members. This is a Delta policy and is required by U.S. regulations as well as others governing aviation worldwide.
Two customers were removed from Delta flight 1 departing London-Heathrow today after a disturbance in the cabin resulted in more than 20 customers expressing their discomfort.
We have spoken with the customers who were removed; they were rebooked on another flight. Plans are in place to immediately speak with our crew and other passengers when the flight lands this afternoon. We will provide an update once we have more information.
Delta did not immediately respond to Romper's additional request for comment.
Take a look at Saleh's Delta video for yourself: What would you do, if you were a fellow passenger aboard this same flight? What can you do?
There's also Saleh's professional reputation as a "prankster" at play here, too: He has notoriously created several fake Islamaphobia prank videos in the past. But we shouldn't dismiss Saleh outright despite his past, because as I mentioned, this isn't the first time something like this has happened on a flight.
In October, Houston, Texas OB-GYN Tamika Cross claimed that a Delta flight attendant didn't believe she was a doctor when a midair emergency necessitated medical assistance. Cross, who is black, was not only dismissed by the flight attendant repeatedly — even after the pilot put out a call for help on the plane — the attendant allegedly demanded to see Cross's medical credentials. Delta said in a statement at the time that it was investigating the incident.
So, what's a level-headed passenger who recognizes possible discrimination on a plane when she or he sees it to do?
First, Comply With All Instructions From The Airline Crew
This is a biggie — because not doing so could not only get you kicked off the flight too, but you could face criminal charges and fines. Seriously — passengers who interfere with a crew member's ability to perform their job can face up to 20 years in prison or even a fine of up to $250,000, according to the Find Law blog. No matter how in the wrong they might be, follow their instructions.
Document Everything That's Happening
In the age of the smartphone, there's a camera everywhere. Take photo and video if you can so you can document the experience as its happening. If a crew member tells you to sit down, comply — but that doesn't mean the camera has to stop rolling, even just to capture audio. If you don't have a means of documenting the situation as it's happening, write down as much as you can as soon as you can following the incident. The ACLU offers the following specific information to collect:
When documenting the sequence of events, be sure to note the airport, airline, flight number, the names and badge numbers of any law enforcement officers involved, information on any airline or airport personnel involved, questions asked in any interrogation, stated reason for treatment, types of searches conducted, and length and conditions of detention.
File A Formal Complaint With The Airline, The Department Of Transportation, & The ACLU
Using your documentation, contact the airline immediately upon landing. Ask a gate agent when you land if there's someone you can speak to directly. The ACLU also encourages those who claim they have been discriminated against or witnessed alleged discrimination to also fill out a complaint with the Department of Transportation. The ACLU also maintains a Passenger Profiling Complaint Form on its website you can fill out, too. The ACLU also has a handy guide for everything passengers should know about their rights at airports.
After that, there's nothing much you can do. Social media can amplify your concerns, but don't expect that it's a guaranteed means to a formal solution. At the very least, you'll have done more than most if you end up filing a complaint.