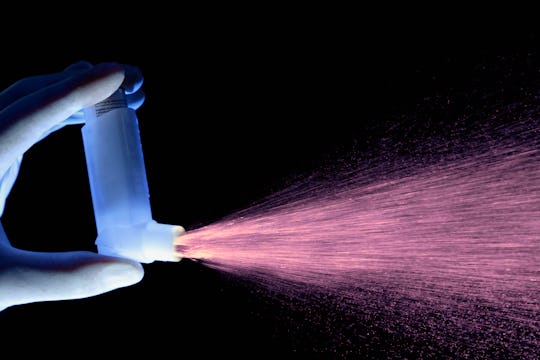 Getty Images/Getty Images News/Getty Images
What To Do If Your Child's Inhaler Was Recalled
Earlier this month, British pharmaceutical company GlaxoSmithKline voluntarily recalled nearly 600,000 albuterol asthma inhalers due to a possible defect with the delivery system. While this is not a consumer-level recall, the affected products are being pulled from hospitals, pharmacies, retailers, and wholesalers across the United States as a precautionary measure. However, if your doctor has prescribed this brand to you and you're affected by the recent news, here's what to do if your child's inhaler was recalled and they have an asthma attack while you wait to get another.
First things first: You'll need to see if your child's Ventolin HFA 200D inhaler is included in the affected lot numbers, which are 6ZP0003, 6ZP9944, and 6ZP9848. (To find this number, look at the text on the metal part of the inhaler.) If it is, throw it away and contact the company's customer service center at 1-888-825-5249 with any questions. If your child's inhaler was not included in the recall but you find that it still isn't relieving their asthma symptoms, the company advises patients to seek medical treatment (at an urgent care center or emergency room, if you can't see your doctor) right away. Keep them calm in the interim, because anxiety can increase symptoms dramatically.
"There is possible risk that the affected inhalers could potentially not deliver the stated number of actuations," company spokesman Juan Carlos Molina told ABC News. "We continue to investigate the issue in order to identify the root cause and implement appropriate corrective and preventative actions."
Should you need a refill of a Ventolin HFA 200D inhaler while the investigation is underway, the Asthma and Allergy Foundation of America has explained that the recall shouldn't affect a pharmacy's supplies of the medication as the defect involves the inhaler's delivery system (the inhalers reportedly become inflated from leaking asthma medication). This means that consumers were essentially running out of doses sooner than expected. Nonetheless, concerned parents should still check in with their local pharmacist regarding any questions, issues, and refills.
If there's a possibility that your child could be without asthma medication for any amount of time, parents should speak with their healthcare provider immediately about an alternative method or brand they can use in the meantime. Additionally, perhaps ask whether your child can use an over-the-counter asthma inhaler if need be to treat symptoms such as shortness of breath, chest tightness, and wheezing as a short-term solution or as an emergency back-up plan.
As asthma needs constant care and proper management, this recall may understandably cause worry for many who depend on the lifesaving inhalers. Fortunately, though, the defect does not pose an immediate danger to patients, so parents should have time to speak with their child's doctor if their inhalers are affected by the recall. And if worse comes to worst? Take them to a medical professional ASAP — because asthma is no joke.