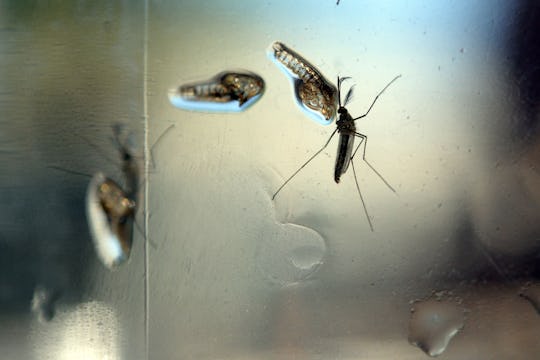 MARVIN RECINOS/AFP/Getty Images
What To Do If Your Cruise Is Going To A Zika Zone? Don't Sweat It, You've Got Options
Excited about a vacation that is coming up? What if you find out that you could be at risk? What do you do if your cruise is going to a Zika zone? If you have a planned trip to one of the risky locations where the mosquito-borne disease has been detected, don't freak out. You have options, especially if you're pregnant.
The travel industry understands if you don't want to take that cruise to a Zika zone, especially since experts say the disease is possibly linked to birth defects in babies. According to the CDC, Zika virus has now been seen in more than 20 countries, predominantly in Central and South America. Many of the babies born to infected mothers have been diagnosed with microcephaly, a disease in which the size of the head is abnormally small, causing developmental issues in children.
The Centers for Disease Control and Prevention recently issued a travel alert that recommends travelers take "enhanced precautions" when visiting certain areas of the world due to this disease; Those same experts have also advised that those heading to Zika infected areas may prevent mosquito bites by using insect repellent and covering exposed skin when traveling to some areas in the Caribbean, Mexico, Central and South America, and more.
"Norwegian Cruise Line and Carnival say that pregnant women will be allowed to reschedule cruises or change to another itinerary in a region that is not affected by Zika," Fox News reported this week. "Royal Caribbean says that it will provide pregnant women with alternate itinerary options. That may include giving guests a future cruise credit valid for two years."
Cruise lines aren't the only ones helping concerned travelers out during this crisis. The biggest U.S. carriers are allowing passengers to cancel or postpone their trips if they're ticketed to fly to affected areas. Delta Airlines as well has stated recently that travelers headed to Zika infected regions may change their original destination, swap dates, or request a full refund, if they're nervous. American Airlines too has issued a similar statement to pregnant passengers and their travel companions, so long as they are able to show proof from their doctor that it's in their best interest to swap plans. United Airlines has also joined the chorus of companies allowing travelers to change plans, stating that those flying to the impacted areas will be able to re-book their flight for a later date. As with Delta and American Airlines, United passengers may also ask for a refund, according to The New York Times.
Southwest Airlines doesn't charge change fees currently, but stated that all "non-refundable fares can be applied toward future travel without penalty", so long as the reservation is "cancelled 10 minutes prior to the scheduled departure of [the] flight." In a statement on its website in January, Virgin America said it will allow travelers headed to any of its Mexico destinations to apply for refund. The airline also stated that those travelers have the option of changing flights free of charge.
Not all hotels in the affected regions are offering refunds, but Hilton specifically has said that it is considering cancellation waivers for those traveling to impacted areas on a "case-by-case basis", Fox News reported this week.
Whether you're still trying to find a way to make that beach vacation work or would rather jump ship now and avoid any unnecessary drama, it seems that most places have got you covered.
Ed. Note: An earlier version of this story did not properly cite a Fox News post and a New York Times post containing the details of each airline, cruise line, and hotel's new Zika-specific cancellation policies. Romper regrets the error.