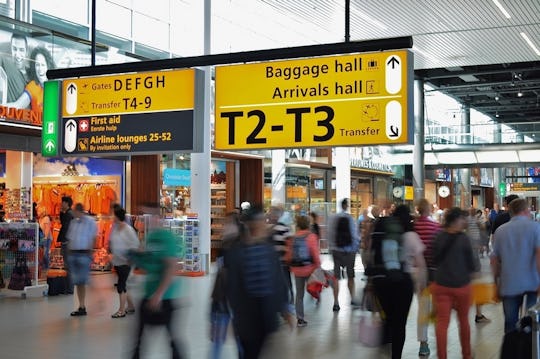 What To Do If Your Flight Is Cancelled, Because Holiday Travel Is Never Without Stress
It'd be great if getting home for the holidays was as easy for us as it was for Dorothy — just click our heels together three times and call it a day. But, alas, holiday traveling is a bit of pain in the ass. Crowded terminals, expensive tickets, and long security lines are just some of the stressors that come with flying home to your family. And, worst of all, holiday travelers face the occasional delay or — God forbid — cancellation. As if stress levels weren't high enough. So what can you do if your holiday flight is cancelled?
You've arrived at the airport more than the suggested hour early with fresh copies of your favorite magazines and a bagful of your favorite snacks, but no matter how prepared you are, you may still have to deal with the misfortune of a cancelled flight. But being the good traveler that you are, you can be prepared for this, too. No matter how sad or, more likely, angry you might be upon hearing this information, there are steps you can take to ensure you make it home in time for turkey. Knowing how to handle this situations is key to coming out the other side. And no, text-ranting to your best friend and yelling at the airline workers is not the answer, no matter how tempting that may be. Here are nine things you should do if — and most likely when — your flight is cancelled during the holiday season.