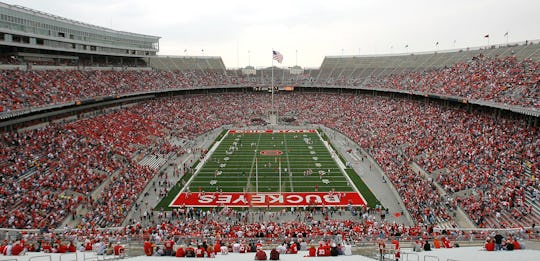 Matt Sullivan/Getty Images Sport/Getty Images
What To Do If Your Loved One Is Involved In An Active Shooter Situation
On Monday morning, reports of a active shooter at Ohio State University infiltrated the news. According The Columbus Dispatch, the suspect is dead and nine people have been hospitalized as a result. The tragedy is far from concluded, though, as loved ones of those on the Columbus campus desperately try to get along of their friends and family members. America, tragically, needs to acquaint itself once again with the rules of what to do if your loved one is involved in an active shooter situation, because what you do can mean the difference between life and death.
The university's emergency management division tweeted just before 10 a.m. alerting students of the reported active shooter situation, encouraging them to run, hide, and then fight — the standard creed that, theoretically, outlines, in order, the actions students or others should take if they find themselves in one of these heartbreakingly common situations. CNN later reported that the suspect had attacked the victims with a knife, not a gun. None of the injuries sustained were life-threatening.
Nowhere in the U.S. Department of Homeland Security's extensive guide on how to respond to an active shooter situation is there directions for those in danger to contact their friends or family members with updates. Still, those whose family members or friends are students or faculty at Ohio State were surely desperate to get ahold of them — even as some students hide out to ensure their safety until the threat of violence had passed.
About an hour and a half after the reports of the active shooter flooded social media, the the university's police force lifted the shelter-in-place directive it had imposed, and cancelled classes for the rest of the day. Students who had barricaded themselves in classrooms by piling chairs and desks against doors had the green light to come out.
Many of those students had undoubtedly used their cellphones to talk with one another and people who were not on campus who were understandably incredibly worried about them. But it's worth remembering that for family members and friends to frantically call and text their loved ones could be dangerous, as it's more than likely that they are hiding, and a vibrating or ringing phone could give them away.
As authorities worked to determine what had happened in the hours after the attack it was not clear how the victims had been injured, or how seriously. Exactly that type of confusion and lack of information during and following an incident such as the one at Ohio State is what makes it so difficult for those on the outside to refrain from sending potentially disruptive text or making calls that could indirectly prove fatal. But it's imperative to resist the urge.
Instead, concerned friends and family members should monitor official social media accounts of authorities responding to the scene (in this case, @OSUPOLICE, @OSU_EMFP, and @OHFCSO) for updates. As the fact that reports of an active shooter on campus soon morphed to confirmed instance of an apparent stabbing spree shows, these situations are volatile, and initial information is rarely 100 percent accurate. The most trustworthy information will come from official sources, and it's best to make it as easy as possible for those on the scene to hide while law enforcement secures the area.