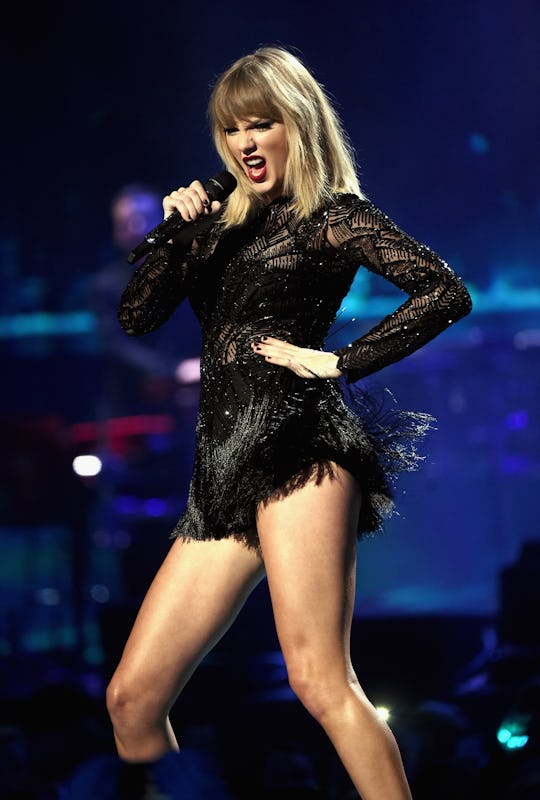 Kevin Winter/Getty Images Entertainment/Getty Images
Your Order Of Taylor Swift's 'Reputation' Won't Download? Help Is On The Wayr
If you're one of the hundreds of thousands of dutiful Taylor Swift fans who pre-ordered her latest album Reputation before it was released, then you may have found yourself stressed out of your mind when your pre-order would not transfer to the ordered state, thus preventing you from hearing her latest tracks the minute it became available. [Insert any sad, stressed, angry Emoji here]. Fans took to social media to reveal their frustrations, pleading with iTunes and their fellow team TS comrades for help on what they should do if their Reputation pre-order won't download, and like the good samaritans they are, fans jumped right in.
All of Taytay's 800,000 plus purchases of Reputation must've caused iTunes to have a mini meltdown, which is totally not acceptable, but there is a workaround if you're having trouble either downloading the pre-ordered tracks or can't get them to play. Multiple customers found that their problem was resolved once they went to the purchased page in their iTunes account and downloaded the album or individual songs again. Apparently this isn't the first time that there was a glitch in downloading any one of Swifts' songs or albums though. A couple years ago fans had trouble downloading 1989 and hit up iTunes' support page. Three days later — three days!? — Brenden from "community service" revealed that you should first check your automatic download settings, and if they're still showing up as purchased, you could download the songs manually from the purchased page.
Obvi fans don't have three days to wait to listen to all the tracks so crowd-sourcing on Twitter is a much faster route to take if you need answers fast. Aaron revealed how pissed he was when only a handful of his-preordered purchases would play. OMG that would drive us crazy too. Last we heard he couldn't edit the volume, so we imagine he is listening to T-Swizzle's voice coming in through the speakers at an annoying low, or annoyingly high decibal.
We love Queen Sheeba's SOS to iTunes. No, the Apple-owned company did not respond, but another Twitter user did with the same general info to go to the purchased page on your iTunes account and to download the songs manually from there. Swifty fans, unite!
As is the case with technology, you might still be having issues. User MartinsRedditAccount on Reddit actually got some helpful advice from a specialist on iTunes on a surefire way to get any purchased songs to play, especially those Taylor Swift ones. He revealed these steps: "1) Log out of the iTunes Store 2) Before logging back in, go to Taylor's album page 3) click on the price, it will ask you to sign in 4) it will charge you (normal, it only charges you for the songs that are available) 5) it will start downloading!"
If you are having trouble downloading Reputation from Amazon, you can troubleshoot by following the steps on their help page. In a nutshell, try a different web browser, check your anti-virus software and firewall settings, and check your internet connection — sounds obvious, but it might be that you're just experiencing an internet traffic jam and you need to hang tight for a minute for the download to complete.
Of course, if none of these tips are working for you, it's time for something more drastic. We suggest setting up a new email account, opening up a new iTunes account, borrowing a friend's credit card (someone close is preferred, but forgive you if the first person you encounter is the FedEx guy), and purchasing the album from there.
Godspeed.
Check out Romper's new video series, Romper's Doula Diaries:
Watch full episodes of Romper's Doula Diaries on Facebook Watch.