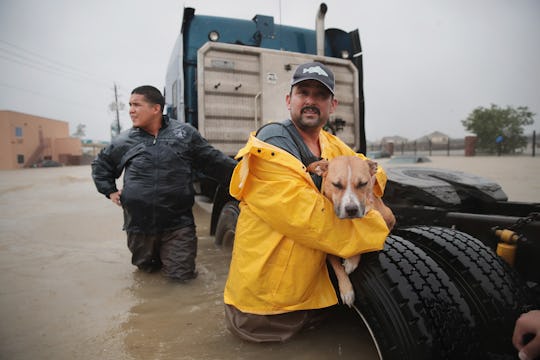 Scott Olson/Getty Images News/Getty Images
What To Do With Your Pets During Hurricane Irma
During Hurricane Harvey, many Americans' hearts broke as they heard stories of the many dogs and cats endangered by the massive storm. With a second big storm making its way toward the United States now, many people in Florida and Puerto Rico are stocking up and making just-in-case plans for an emergency. If you're living in an at-risk area and have a cat or dog or iguana of your own, here's what to do with your pets during Hurricane Irma — because Fido should always be a part of your plans when it comes to preparing for a natural disaster.
First of all, if you're planning to hunker down for the storm, you'll want to make sure you stock up on pet supplies when you do your Walmart run for yourself or your family. According to CBS, you'll want at least 2 or 3 gallons of water for each pet, which should last you about four days. Get a minimum of one week of food per pet, and keep about a week's supply of any necessary medication on hand. Sufficient cat litter — and pee pads for dogs, if they use them — will also be necessary.
If you don't already own a pet carrier, make sure you get your hands on one, too, just in case you need to leave home. Vets also suggest that you have a "hurricane box" prepared for pets that includes food, bowls, leashes, and their veterinary documents. You should have their vet's number on hand, as well pets' vaccination history, microchip registration, and any information on any chronic illnesses or current maladies.
Well before the storm hits, you'll also want to have a lay of the land when it comes to emergency services. If you live in a flood-prone area, can you stay with friends or family in a safer zone instead? Are there pet-friendly emergency shelters you can go to if forced to evacuate? If not, are there pet boarding facilities or animal hospitals near your evacuation shelter? The Department of Homeland Security recommends you call your local emergency management office, animal shelter, or animal control office if you don't have certain information or if you need advice.
No matter what, try to stick to your original plan, and make sure scared pets can't bolt (keep them away from windows and doors, in their carriers, or on leashes). Ensure that all pets are microchipped and have identifying tags on them, with up-to-date information and phone numbers included.
A hurricane can be a scary incident for both pets and their owners, but being prepared goes a long way in easing those fears. Just make sure that you're stocked up and have an emergency plan in place long before you actually need one. With any luck, you won't need it at all.