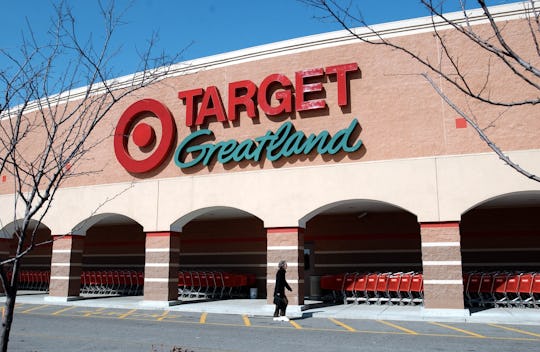 Darren McCollester/Getty Images News/Getty Images
You Guys, Target Is Giving A $20 Gift Card If You Spend $100 On Baby Products
It's a truth universally acknowledged that parents buying baby stuff are always looking for a sale. Luckily, Target often provides the very best of those. Personally, I routinely spend $100 and up in Target's baby aisle — hurray, Gerber Graduate meals — so I can honestly report that what to get at the Target Baby sale is simple — you need this amazing gift card deal.
Here's how it works — when you spend $100 on baby essentials like food pouches, diapers, and wipes either online or in stores, Target gives you a $20 gift card. A customer service representative told me that if you order online, they'll email your gift card to you.
And the selection of "baby essentials" is robust. You'll find Target's store brand diapers as well as Pampers, Gerber Graduates puffs and yogurt melts (among many other convenient baby food choices), and formula and bottles galore. You'll also find toiletries like baby shampoo and a robust selection of baby toothbrushes, too.
If you're just starting your parenting journey, know also that Target is offering a $40 gift card when you spend $200 on nursery furniture, from rocking chairs to infant cribs. Not bad, right?
To take full advantage of your gift card, here are a few click-worthy Target deals going on right now.