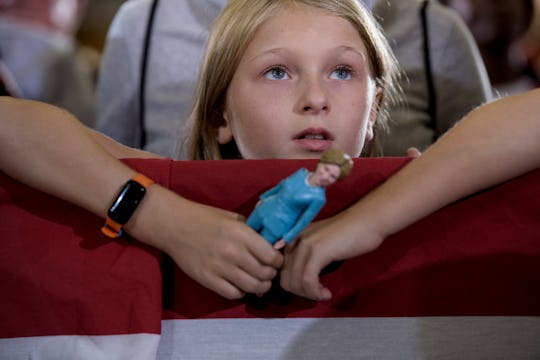 BRENDAN SMIALOWSKI/AFP/Getty Images
What To Tell Your Daughter About Election Night While Waiting For The Final Outcome
The extreme closeness of the 2016 election is like watching a horror flick, and I am literally on the edge of my seat (with probably very high blood pressure). Even though I've waited and pinned for this night with a mix of excitement and nervous enthusiasm, many mothers of daughters who are scared out of their minds may be wondering what to tell your daughter about election night while waiting for the final outcome.
My first motherly instinct is to shield, reassure, and remain strong for my two daughters. Both are elementary aged and probably having a difficult time deciphering the complexities of this election, however, they most definitely can feel the magnitude of significance. They can sense how important and momentous this election is for our country and for them.
Turns out I'm not the only one that is thinking about the right things to say as we wait for the results. These tweets sums up the sentiments of many mothers grappling with the stress and reality of a very divided country.
Many parents want to be candid with their kids, but to an age appropriate level so as not to cause further confusion or stress. Here are five tips to help you navigate conversations with your kid as you wait for the final results on election night.