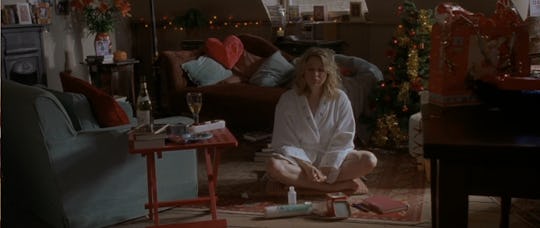 Miramax Films
What To Watch On New Year's Eve When You Just Want To Stay In
New Year's Eve can be a tricky holiday to navigate. There's a lot of pressure (internal or otherwise) to put on something sparkly and get out there to celebrate. But that's not the way everyone likes to enjoy the new year. Sometimes you just want to skip out on the cold and stay cozy on your couch. If that's the case, you'll need to know what to watch on New Year's Eve, and this list may help you. You won't find any New Year's Eve specials here, just some fun movies (and a show!) that you might want to check out before December turns to January.
These options aren't limited to viewing on New Year's Eve, either. If you've got New Year's Day to yourself (and perhaps need to remain tucked in because you're nursing a hangover — I don't judge) then a binge session is the perfect way to spend it. Some choices stay on theme with iconic New Year's scenes, but others are just comfy classics airing on TV on the night in question. Set up your DVR in advance, get ready to stream, or just channel surf. There's something for everyone, so you can spend this New Year's exactly how you want.
Carol
If you're looking for something romantic that takes you from Christmas to New Year's, look no further. Carol is currently streaming on Netflix, so you can watch it at the moment that suits your schedule best.
Sunset Boulevard
If you're more of a classic Hollywood fan, then you're in luck. Sunset Boulevard is available to watch on Netflix. It may not be the most uplifting of stories, but a little noir never hurt anyone on the holidays. It's even got a few New Year's moments, too.
Bridget Jones's Diary
This film starts and ends on New Year's, so it will keep things on theme while also delivering plenty of laughs — and being a little bit too relatable at times. Bridget singing along in her apartment drunk on New Year's is all of us. Bridget Jones's Diary is also streaming on Netflix.
The Thin Man
If you want to enjoy an older film without having to utilize a streaming service, then TCM has got you covered. Starting at 8:00 P.M. EST on New Year's Eve, the network will be airing every single Thin Man movie in the series until 7:00 A.M.: The Thin Man, After the Thin Man (which is set on New Year's!), Another Thin Man, Shadow of the Thin Man, The Thin Man Goes Home, and Song of the Thin Man. There's no more elegant way to start 2018 than with William Powell and Myrna Loy.
New Year's Eve
For more modern fare, click on over to TBS at 8 p.m. EST on Sunday, Dec. 31 to catch recent rom-com New Year's Eve. If nothing else, it'll be a thematic way to hate watch something.
Jurassic Park + The Lost World: Jurassic Park
Spike is airing both Jurassic Park and The Lost World: Jurassic Park all day long on Dec. 31, starting at 10 a.m. EST.
Stepmom
If you'd prefer to spend New Year's Eve sobbing, then Lifetime is there for you. At 5 p.m. EST on New Year's Eve, they'll be playing crying classic Stepmom.
The Holiday
Lifetime will also help you recover from your heartbreak by following up Stepmom with The Holiday at 8 p.m. EST, a movie sure to leave you feeling better with its own New Year celebrations.
Titanic
Then again, why not just wallow? 2017 was a tough year for everyone, and there's nothing wrong with getting in a good cry before saying goodbye to it. BBC America has the perfect thing to accompany that: at both 3 p.m. EST and 7:30 p.m. EST on Dec. 31, they will be airing back-to-back showings of Titanic.
Bill & Ted's Excellent Adventure + Bill & Ted's Bogus Journey
If you'd rather something a touch more comforting, try tuning in to IFC on Sunday at 8 p.m. EST and 10 p.m. EST respectively for Bill and Ted's Excellent Adventure and its sequel Bill and Ted's Bogus Journey. Have some laughs and marvel at the fact that Keanu Reeves truly doesn't age.
Parks and Recreation
E! is coming through with a marathon of Parks and Recreation that lasts all day long on Sunday, Dec. 31, so whenever you have a free moment you can head on over to inject a little joy into your day.
With so many things to watch on New Year's Eve, you'll be covered all the way to New Year's Day.
Check out Romper's new video series, Romper's Doula Diaries:
Watch full episodes of Romper's Doula Diaries on Facebook Watch.