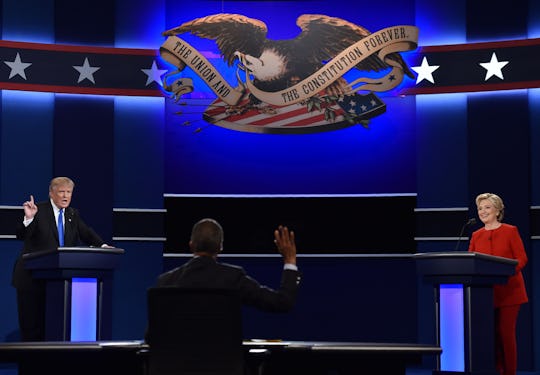 PAUL J. RICHARDS/AFP/Getty Images
What Topics Will The Second Presidential Debate Cover? The Format Is Different
The last presidential debate led to plenty of sound bites and GIFs, but the political pandemonium can definitely distract from what the debates are really about: solving Americans' problems. Democratic presidential nominee Hillary Clinton and Republican presidential nominee Donald Trump will go head-to-head onstage again this Sunday, but viewers can expect it to feel and sound a bit different. What topics will the second presidential debate cover? The town-hall format means that plenty of issues could be fair game for discussion.
The first presidential debate had a reasonably predictable format. The 90-minute event was broken up into six 15-minute segments, each focused on a single topic; according to the Commission on Presidential Debates, the moderator needed to announce their topic choices a minimum of seven days prior to the big night. The moderator would get each segment started by asking a question. After each candidate gave a two-minute answer, the candidates were free to speak to each other with the guidance of the moderator. The second presidential debate scheduled for Sunday, Oct. 9 is different: The Washington Post reported that the town-hall meeting debate involves questions from both the moderator and uncommitted voters in the audience. The total length is still the same (the debate is scheduled to run from 9 p.m. to 10:30 p.m. Eastern Time, broadcasting from Washington University, St. Louis). ABC News' Martha Raddatz and CNN's Anderson Cooper will moderate, giving candidates two minutes on each question with a minute of discussion afterward.
The Gallup Organization is in charge of choosing the voters who get to ask questions, according to the Commission on Presidential Debates. Though the moderator's questions are expected to be guided by "topics of broad public interest as reflected in social media and other sources," the commission does not state that either the moderators or the voters are expected to reveal the topics ahead of time.
Even when topics are released in advance, they're often broad. Prior to the first presidential debate, Politico reported moderator Lester Holt selected the topics "America's Direction," "Achieving Prosperity," and "Securing America." The town-hall format often empowers voters to ask the questions that relate directly to their own lives, compelling them to share personal stories or offer emotional appeals. If debating town-hall style isn't their favorite, candidates get one more shot at the first debate's structure on Wednesday, Oct. 19 when they participate in the last presidential debate from 9 to 10:30 p.m. Eastern Time at the University of Nevada, Las Vegas; according to The Washington Post, the format is exactly the same as the first.
Town-hall meeting debates tend to stretch candidates. It'll be fascinating to see how Clinton and Trump respond to the unique pressure.