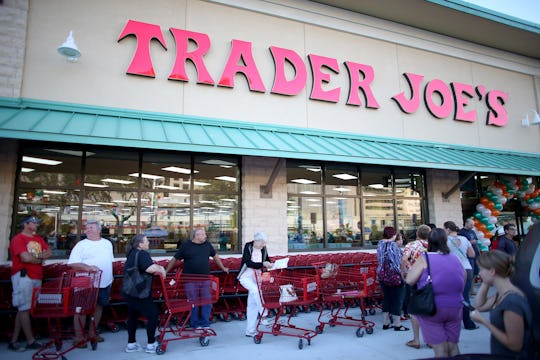 Joe Raedle/Getty Images News/Getty Images
What Trader Joe's Products Were Recalled? The List Keeps Getting Longer
Trader Joe's is one of the best grocery stores, if not the best grocery store around (in my opinion). From their 19-cent bananas to their unique selection of foods you can't find anywhere else (hello, cookie butter), I love it all. But unfortunately, Trader Joe's is a part of a massive food recall due to a factory experiencing a massive outbreak of listeria. So what Trader Joe's products were recalled?
Fans and frequent Trader Joe's shoppers (like myself) might want to clean out their freezer tonight and finely comb through its contents because this recall targets the the store's frozen foods in particular. On Monday, Trader Joe's announced that its frozen Trader Joe's Vegetable Fried Rice and Trader Joe's Chicken Fried Rice had been added to the list of foods recalled earlier in the month. In a statement posted to its website, Trader Joe's said that all batches of its frozen fried rice should be thrown away — no exceptions.
The company said that all of these products have been removed from grocery store shelves and have been destroyed, so don't panic if you don't see your favorite easy meal on the grocery store's shelves, just know that the company is taking extra precautions for your benefit. And if you are in possession of one of these products, Trader Joe's advises not to eat them — instead, if you want that handful of dollars back, you can return them to the store in exchange for a full refund.
The fried rice joins several other recalled frozen products from Trader Joe's: Organic Super Sweet Cut Corn, Organic Peas, Petite Peas, Organic Whole Green Beans, Organic Broccoli Florettes, and Organic Foursome. These frozen products were pulled from the shelves on May 3 but could still be possibly sitting in the freezers of those who shop at Trader Joe's often and who might otherwise unwittingly consume the contaminated products.
Two other products were recalled at Trader Joe's, unrelated to the massive frozen foods recall. On May 4, Trader Joe's recalled the Broccoli Slaw & Kale Salad with White Chicken Meat due to listeria only in Arizona, California, Nevada, and Utah. On May 10, the company recalled the Kale & Edamame Salad due to a possible Salmonella outbreak, but only in Illinois, Indiana, Iowa, Kansas, Kentucky, Michigan, Minnesota, Missouri, Nebraska, Ohio, and Wisconsin. A lot of information to take in, I know.
The recalls at Trader Joe's join a list of over 300 frozen foods that were recalled due to a listeria outbreak at CRF Frozen Foods — a factory that produces frozen foods for places like Wal-Mart, CostCo, and of course, Trader Joe's. You can find the complete list of food recalls pertaining to the listeria outbreak on the Food and Drug Administration's website.
According to the Centers for Disease Control and Prevention, if you are in possession of any of the contaminated products there are a few things you should do. First, just as Trader Joe's suggested, you should throw the recalled products away in a sealed bag so animals or humans can get to it. Then, wash the freezer area where the frozen products were stored with hot water and soap. Finally, after cleaning up wash your hands with warm water and soap.
While my love for Trader Joes still goes on, I am definitely using this recall as an excuse to finally clean out freezer which is packed to the gills with frozen vegetables.