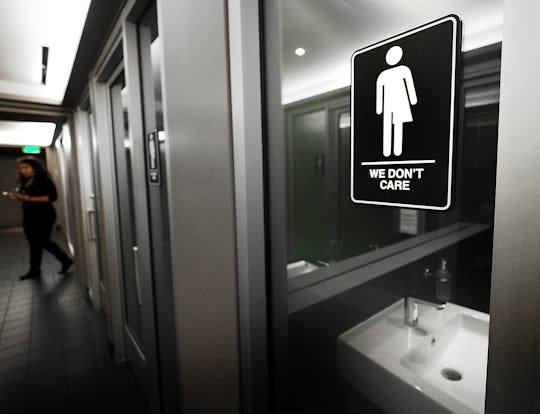 Sara D. Davis/Getty Images News/Getty Images
What Will Happen To Transgender Student-Athletes?
On Wednesday night, President Trump officially rolled back President Obama's directive to public schools to allow children to use whichever bathroom aligns with their gender identity. While a new letter has yet to be sent to schools across the country, LGBTQ advocates are worried about what the policy reversal could mean for transgender youth — and they argue that Trump's transgender bathroom policy roll-back could potentially endanger student athletes as well. For transgender students, who already face barriers in accessing school sports, Trump's new bathroom policy reversal could add yet another challenge to overcome.
"Today's decision could have significant consequences on transgender athletes," Hudson Taylor, the founder and executive director of Athlete Ally, a nonprofit that works to end homophobia and transphobia in sports, explained in an email to Romper. Taylor added,
The Obama administration's guidance was definitive in the federal government's support for transgender athletes to enter the locker room that corresponded with their gender identity. Research suggests that nearly 60 percent of transgender students have been forced to use a bathroom or locker room inconsistent with their gender identity, and today's decision could very well be a detriment to curbing that alarming statistic.
If the Obama administration's policy is reversed, schools would no longer face a federal funding freeze if they forced transgender children to use bathrooms and locker rooms that did not match their gender identity, meaning states can individually decide whether or not to subject transgender students to discriminatory policies. It could limit student athletes — who already face discrimination in many schools' sports team policies — even further, by restricting their access to locker rooms and bathrooms.
According to The Washington Post, 32 states have policies concerning transgender student athletes. Only 17 of those states, however, dictate that students should freely be allowed to play on teams consistent with their gender identity, according to Transathlete. Some states allow schools to decide their own policies individually. Other states require that the student show evidence that he or she is receiving gender reassignment surgery or hormone therapy before joining a team that matches their gender identity.
"School officials often see transgender students' interest in participating in sports according to their affirmed gender identity as disruptive, and practices such as requiring them to use locker rooms and bathrooms that correspond to their gender assigned at birth discourage participation," Pat Griffin, a social justice professor and LGBTQ advocate, wrote for the National Federation of State High School Associations in 2015.
When North Carolina passed legislation prohibiting transgender people from using bathrooms that matched their gender identity in 2016, the National Collegiate Athletic Association said it would not hold events in cities without laws protecting the LGBTQ community. In a statement, the NCAA said:
The Association considers the promotion of inclusiveness in race, religion, sexual orientation and gender identity as a vital element to protecting the well-being of student-athletes, promoting diversity in hiring practices and creating a culture of fairness.
Sports are an essential part of school programs, and experts have repeatedly disproven arguments against allowing transgender athletes to compete on teams that fit their gender identity. (For instance, Helen Carroll of the Sports Project told The Atlantic that transgender girls' athletic skills typically fall "right in the middle" of girls' skill levels in sports.)
"All athletes deserve a fair shot — both on the field and off," says Taylor. "The next generation of athletes should grow up in an inclusive athletic environment protected and supported by their government."
Allowing states or public schools to decide on discriminatory policies only puts student athletes in danger, limiting their potential and institutionalizing discrimination. Despite what the new administration might believe, rolling back mandates and giving power back to the states will undoubtedly do much more harm than good down the road.