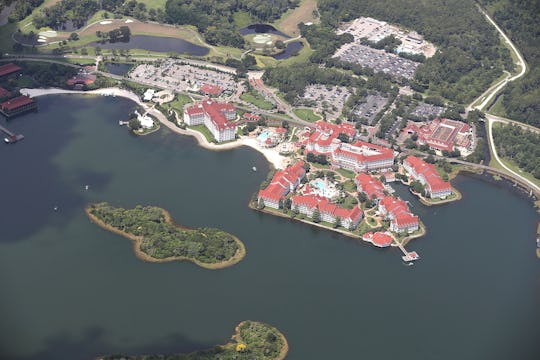 Joe Raedle/Getty Images News/Getty Images
What Type Of Alligator Took The Boy At Disney World? They Are Very Common In South Florida
Lane Graves, the 2-year-old boy snatched by an alligator at a Disney Resort, has been found dead after an intense search. A dive team discovered his body in 6 feet of water, not far from the shore where he was attacked on Tuesday night. The leader of the investigation, Sheriff Jerry Demings, had little doubt about the cause of death. He said, "Of course, the autopsy has to confirm that, but there is likely no question in my mind that the child was drowned by the alligator." So, what type of alligator took the boy at Disney World?
According to the Florida Fish and Wildlife Conservation Commission, the type of alligator that populates South Florida is the American alligator, or Alligator mississippiensis. Their ideal habitat is freshwater wetlands, like marshes, lagoons, and swamps, and they can be found living in waterways from Texas to North Carolina. Though they were declared endangered in 1973, efforts to replete their populations since then have allowed alligators to be removed from the list. According to CNN, this type of alligator has caused at least 23 human deaths and 373 human injuries since 1973. Even so, the likelihood of being attacked by an alligator is just one in 2.4 million.
Graves was attacked around 9 p.m. on Tuesday in less that a foot of water. American alligators are nocturnal, so their most active feeding time is from dusk to just after sunset. According to nature expert Jeff Corwin, who was interviewed by CNN, alligators are most likely to lunge at prey on the shore. He said, "That gator came in, grabbed that boy, pulled him, the dad startled that gator, the gator let him go and then the boy drowned." Though Graves' mother and father went into the water to try and save their son, they were not able to wrestle him from the alligator.
According to the Washington Post, a bystander called 911, and Disney World employees, the Orange County Sheriff's Department, and the Florida Fish and Wildlife Conservation Commission rushed to the scene. More than 50 law enforcement officers were assigned to the search team, and they canvassed the Seven Seas Lagoon in helicopters and boats in a desperate search for the toddler. The search continued, and, on Wednesday, divers with sonar technology were deployed. According to Sheriff Demings, the interconnected lagoons were difficult to search given the "systems built in the waterway" and the small tunnels characteristically built by alligators.
According to The New York Times, the alligator they are searching for is between four and seven feet long. The search team has since captured five alligators and euthanized them in order to determine which was responsible for this tragic occurrence.
George A. Kalogridi, the president of Walt Disney World Resort, shared his condolences for the Graves family in a statement. He said, "There are no words to convey the profound sorrow we feel for the family and their unimaginable loss. [...] On behalf of everyone at Disney, we offer them our deepest sympathy."