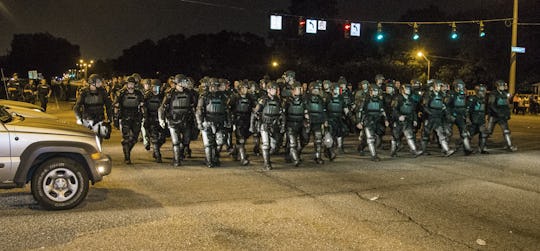 Mark Wallheiser/Getty Images News/Getty Images
What Type Of Gun Did Police Pull From Alton Sterling? The Details Are Still Emerging
The death of Alton Sterling, a 37-year-old black man who was shot by police in Louisiana last week, sparked protests around the country and re-opened a dialogue about police brutality in America. A searing video of the fatal encounter shows police officers arresting Sterling outside a convenience store, pinning him to the ground and then shooting him in the chest. Public outcry followed, and the U.S. Justice Department opened a civil rights investigation into the case. The police officers involved, however, allege that they saw Sterling reaching for a gun in the pocket of his pants when they shot him. So what type of gun did police pull from Alton Sterling?
Details are sparse, but a second video of the arrest that emerged this weekend appears to show police officers removing something from Sterling's pocket. What they removed is still being investigated.
Last Tuesday, Police responded to a complaint that a man in a red shirt standing outside a Baton Rouge convenience store had threatened someone with a gun. Police said Sterling, who was selling CDs and DVDs outside the convenience store, matched the description of man involved in the complaint. The officers allegedly told Sterling to put his hands on the hood of the police car and said Sterling refused to comply. They then tackled him and pinned him to the ground. As they tried to tase Sterling, he allegedly reached for a gun, according to an affidavit for a search warrant of a surveillance video, issued by a detective investigating the case.
Police have claimed that evidence corroborating parts of the officer's version of events has since emerged, including videos of the encounter show the officers shouting "He's got a gun!" before shooting Sterling in the chest; and a new video that emerged over the weekend, shot by the convenience store owner, Abdullah Muflahi, which shows one of the officers removing something from Sterling's right pocket after shooting him. The footage is grainy and it is impossible to see exactly what the officers removed. But following the shooting, Muflahi claimed the officers did, in fact, remove a gun from Sterling's pocket.
However, even if Sterling was armed, that does not necessarily mean he posed a threat to the officers. Sterling would have been permitted to carry a gun under Louisiana's open carry laws and it seems unlikely that he could have posed a threat to the officers when they were straddling him to the ground. Sterling died shortly after being shot and the two officers involved have been placed under administrative leave until the department's investigation is complete.
While new details about the case are still emerging, the shooting has re-opened an important dialogue about race and police use of force.